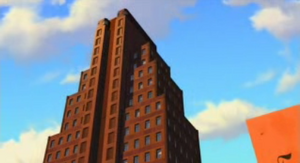 Al's Penthouse is an apartment in Toy Story 2 where Al McWhiggin, the toy collector and owner of Al's Toy Barn, first takes Woody after stealing him from a yard sale at Andy's house.
Toy Story 2
(The elevator floor indicator stops at 23)
New Buzz: "Blast! He's on level 23."
Slinky Dog: "How are we going to get up there?"
Rex: "Maybe if we'd find some balloons, we could float to the top!"
Mr. Potato Head: "Are you kidding? I'd say we stack ourselves up, push the intercom, and pretend we're delivering a pizza."
Hamm: "How about a ham sandwich: with fries and a hot dog?"
Rex: "What about me?"
Hamm: "Uh, you could be the toy that comes with the meal."
The penthouse is on the topmost floor of the tall, 23-story (75 m) building located right across the street from Al's Toy Barn.
Here, Woody meets his companions from Woody's Roundup, which consists of Jessie the yodeling cowgirl, Woody's horse Bullseye, and Stinky Pete the Prospector. Woody also finds a collection of merchandise including, but not limited to, a yo-yo with Woody's face on it, a bubble-blower with Woody's face and a push-down hat, a boot that fires a snake, and a record player. There is also a TV that plays the show Woody's Roundup, which was canceled following the launch of Sputnik.
Later, Andy's toys use a network of air vents connected to an elevator shaft within the building to gain access to the penthouse and save Woody from Al, which culminates in the Prospector locking Woody, Jessie and Bullseye inside the apartment, preventing them from escaping.
After Al returns to his apartment for one last time, he packs Woody and the Roundup gang into a case and leaves for the Tri-County International Airport. The toys then permanently leave the apartment to resume their epic quest to rescue Woody.
Trivia
At one point, when Woody goes out to retrieve his arm while Al is sleeping, he must be careful not to step on the cheese puffs, or else he will wake Al. This mirrors a scene from Raiders of the Lost Ark when Indiana Jones, while inside a temple in South America to retrieve a Golden Idol, must not step on the sinking stone, which will trigger a dart shot at him.
In Toy Story 2: The Video Game, there is a level based on Al's Penthouse. It's much larger in the inside itself than it was seen on the film, as it features a bathroom, kitchen, fireplace, and a bedroom with a model train going around a track over the bed. Also, the TV, display cases, and the other Woody's Roundup memorabilia are in a separate room rather than being right in the room when Buzz enters through the air vent like in the film.
Al's TV is based on a real Philco Predicta television owned by John Lasseter.
When looking closely at the elevator floor indicator, one can see that numbers 2 and 3 are not shown, but most noticeably number 13 is omitted, which is common for almost all buildings in North America (possibly due to triskaidekaphobia).
As the toys exit the apartment, Mr. Potato Head throws his hat like a Frisbee to stop the closing doors, a reference to Oddjob's trademark hat-throwing technique in Goldfinger.
For some unknown reason, Al's apartment doesn't allow children to reside but only adults, as a sign on the front door of the apartment reads "NO CHILDREN ALLOWED." This seems to be a reflection of Al's personality in that he owns a toy shop not out of love of children or appreciation of toys, but to make a fast buck. Affording a penthouse in a child-restrictive area is a manifestation of said attitude.
Video Game
Community content is available under
CC-BY-SA
unless otherwise noted.