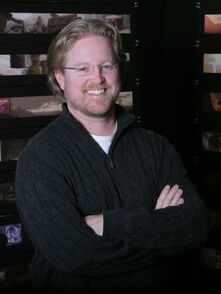 Andrew Stanton is a director, screenwriter, producer, and occasional voice actor. He has been instrumental in the success of many Pixar films.
Biography
Stanton joined Pixar in January, 1990 and was the second animator (John Lasseter being the first) and ninth overall employee hired at the studio.[1] His first duties were working on television commercials. With John Lasseter, Pete Docter and Joe Ranft, Stanton rounded out the original Brain Trust and helped develop the idea for Pixar's first full-length animated movie, Toy Story, which he received an Academy Award nomination for. Since then he has directed Finding Nemo and WALL•E, and was co-director on A Bug's Life. He has also performed the voices of Emperor Zurg in Toy Story 2, Crush and the Seagulls in Finding Nemo and Fred in Cars. He and John Lasseter have cameo voices in A Bug's Life as two flies. He has recently directed John Carter. He also voiced Hamm in the opening of Buzz Lightyear of Star Command: The Adventure Begins and Hopper in the A Bug's Life Video Game and It's Tough to Be a Bug.
Filmography
Director
Co-Director
Writer
Executive Producer
Character Designer
Story Artist
References
↑ Paik, Karen (2007). To Infinity and Beyond! The Story of Pixar Animation Studios. San Francisco, CA: Chronicle Books LLC.