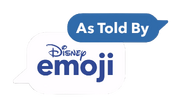 As Told by Emoji
is a series of shorts produced by Disney Interactive Studios.
Premise
The series consists of short, animated adaptations of well-known Disney feature films and tells them in the form of emoticons. The shorts are showcased within the confines of a mobile phone.
Currently, seven Pixar films have been adapted for the series: Finding Nemo, Finding Dory, Coco, The Incredibles, Toy Story, Monsters Inc. and Ratatouille. The shorts were uploaded onto Disney's official YouTube channel on May 31, 2016, September 1, 2016, and February 23, 2018, and May 31, 2018, respectively. Toy Story, Monsters Inc., and Ratatouille adaptations were released on Disney+.
Videos
Community content is available under
CC-BY-SA
unless otherwise noted.