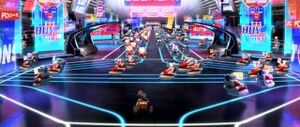 Axiom Humans are the citizens of the Executive Starliner the Axiom. They are morbidly obese, float around in hoverchairs, and appear to be completely oblivious to their surroundings. Very few of these humans are named, with the exception of John, Mary and Captain B. McCrea.
Culture
The humans here are very oblivious to their surroundings; for example, when WALL•E knocks into Mary's hoverchair, she appears as if she had never noticed all of the Buy 'N' Large ads, or the Axiom's very large swimming pool before. They drink "Food In A Cup," really just liquified food. They have also been observed to be very lazy. Most of them have never even turned their heads from the holographic displays in front of them, with a video chat screen surrounded by ads. This is noticeable when WALL•E first sees a human in his chair: he is video chatting with the person right next to him.
Size
The most striking thing about these jelly-filled humans is their immense size. This is due to overexposure to artificial gravity, along with a complete lack of exercise. The most immense human appears as the very second human WALL•E sees. Most of them have very short fingers, no neck, and legs no longer than 8 inches.
Lifestyle
All of the humans appear to be trapped in BnL's bubble. They look and listen to ads all day, drink BnL food, and never leave their BnL hoverchairs. The activities on the Axiom appear to be fun to us, like golf, tennis and swimming, but most of the time the sports is left to the robots. This is seen in the scene where instead of playing Golf in the Axiom introductory video, sitting in their chairs and tapping where the ball should go; and in the scene with the morning announcements, this seems to be the case with Tennis too.
Community content is available under
CC-BY-SA
unless otherwise noted.