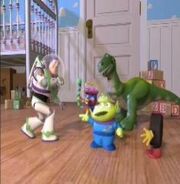 Space Rangers is one of the Toy Story Treats that aired on ABC's Saturday morning line-up in 1996.
Plot
In the first short, Buzz is telling Rex, Snake, Robot, the Hockey Puck and the Aliens that it's not just the looks that make a Space Ranger, but the attitude. One of aliens does a somersault and says, "Eat laser, Zurg!" in a cool sounding voice, and Buzz looks at him, approvingly saying, "Now that's the right stuff."
Another one has Woody and Buzz going to see Rex, who has a goldfish bowl on his head for a helmet telling Woody that he's a Space Ranger. But Buzz tells him that Rex is only a "Space Cadet" because he keeps forgetting the secret handshake.
The final one has Buzz telling Rex that it takes more than a goldfish bowl to become a Space Ranger. He then sticks suction cup arrows to Rex's helmet, saying that now he's a real Space Ranger, and shakes his hand congratulating him.
Trivia
This is one of the only other appearances the Hockey Puck had made after the original film.
The Suction cup arrows that were last seen stuck to Buzz in Sid's Room in the film are used here.
Rex's goldfish bowl helmet with the suction cups would later be used in Toy Story 2.
Video