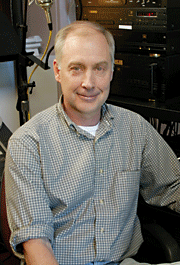 Benjamin A. Burtt was born July 12, 1948 in Jamesville, NY. Burtt has been one of the leading creative forces in sound design for over 30 years. He is well known for his work in E.T. the Extra-Terrestrial, Indiana Jones and the Star Wars franchise. Some of his creations include the sound for the light saber, Darth Vader's breathing, R2-D2's voice and the hiss for Alien. He has won 4 Academy Awards - Best Sound Editing in Raiders of the Lost Ark, Best Sound Effects Editing in E.T.: The Extra-Terrestrial and Indiana Jones and the Last Crusade, and a special Achievement award for his work on the original Star Wars.[1] Burtt also won the 2009 MPSE Career Achievement Award.
His first work for Pixar was in 1984 on their first short film, The Adventures of André and Wally B.. At the time Burtt was working for Sprocket Systems, the Lucasfilm sound group. He joined Pixar in May, 2005[1] to create the sounds and robot voices for WALL•E.
He is credited as the voice of WALL•E and M-O.
References