Doctor Strange in The Multiverse o Madness - The Loop
Play Sound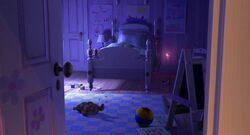 Boo's Room is a room where Boo, a human character in Monsters, Inc., lives. It is accessed by a white door with pink ridges and pink, blue, and purple flowers. At the beginning of the film, Sulley finds a remaining door on Scare Floor F that is still standing after the scaring hours and functional. He peeks into the room, only to find no one inside, but when he exits the room, he finds Boo, who has entered into the Monster World from her room, playing with his tail. Terrified, Sulley places her back into her room, but she comes back into the Monster World. Sulley then picks up Boo and carries her back into her room himself, but trips over some of Boo's toys on his way out and accidentally takes them into the Monster World. As for Boo, she has clung onto Sulley's back.
The next day, after learning from Randall Boggs that Boo's door will be on Scare Floor F while the workers go out for lunch, Mike Wazowski decides to take that advantage to convince Sulley to return Boo to her room, believing that this is their chance to do so before it is too late. However, Sulley believes that Randall is after Boo and does not help Mike, so Mike goes into the room instead, only to get captured by Randall.
Much later, when Roz appears to decide what to do about the girl after Randall's defeat and Mr. Waternoose's arrest, Sulley states that he wants to return her to her room, so Roz gives him and Mike five minutes to do so. Boo safely returns back to her room and invites Sulley into the room to show him her toys. After placing Boo back in her bed, Sulley and Boo take a one possibly last look at each other before Sulley closes the door. Boo then opens the door to surprise Sulley, but finds her closet instead and Sulley nowhere. Boo's door has been shredded to ensure that she will never invade the Monster World again. However, despite that, Mike Wazowski manages to rebuild the door, and Sulley opens the door to take one more peek into the room, with Boo recognizing him, as the film closes.
Trivia
Among the toys scattered around the room is the Jessie doll from Toy Story 2, the ball from Luxo, Jr., and a Nemo squeeze toy (as a tiny "sneak peak" to Finding Nemo).
Finding Nemo eventually returned the favor by having Boo's fish mobile show up inside Dr. Sherman's dental office.
Her teddy bear also appeared in Finding Nemo, which is inside the chest in the waiting room.