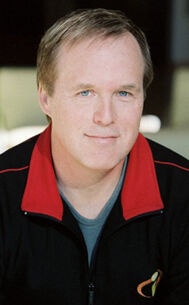 Brad Bird (born September 24, 1957) is an animator, director and producer at Pixar.
He has worked on such films as The Incredibles, Ratatouille, Mission: Impossible - Ghost Protocol, Tomorrowland,and 1906. He also performed the voices of Edna Mode and Ambrister Minion in their respective films. His latest project was writing and directing Incredibles 2[1].
Biography
Early Years
Bird became interested in film making at a young age. He made his first short film, The Tortoise and the Hare, at age 13. The quality of the film caught the attention of Disney, who invited him to come to their studios in Burbank anytime he wanted.[2]
Pre-Pixar
After graduating from Corvallis High School in Oregon, he went to school at CalArts where he was classmate with John Lasseter. He dropped out of CalArts to go work at Disney but was let go. He went on to work on shows such as The Simpsons and King of the Hill. Brad Bird had also worked with Steven Speilberg in his TV show Amazing Stories, directing a cartoon called Family Dog, the only animated episode of the live-action TV series. Bird voiced the part of the dog. Bird and Speilberg teamed up again when Speilberg produced *batteries not included, about three extraterrerstrial probes who come to the aid of down-and-out residents of New York City. Speilberg had intended the idea to be another episode of Amazing Stories, but following the series' cancellation and his liking of Bird's idea he decided to produce it as a movie with Bird directing. *batteries not included starred Elizabeth Peña, who would later be reunited with Brad Bird in The Incredibles. Bird then went on to write and direct The Iron Giant, an animated film that received wide critical acclaim, but did not do as well at the box office. It does, however, have a cult following.
Pixar
John Lasseter started courting Bird during the production of A Bug's Life when he realized it would require multiple directors to reach the goal of creating a film every year. At the time Bird was already committed to making The Iron Giant but was eventually hired in May 2000 to write and direct The Incredibles, a movie he had wanted to make for many years.
After The Incredibles, Brad was brought in to finish the screenplay and direct Ratatouille.
Awards
Bird was honored with many awards for The Incredibles and Ratatouille, including Academy Awards for Best Animated Feature for both movies; the latter also won a Golden Globe for Best Animated Feature. For his voice role as Edna Mode in The Incredibles, he won an Annie Award for Voice Acting in an Animated Feature Production. In addition, in 2008, he was awarded the Animation Writing Award for lifetime achievement from the Writer's Guild of America, West's Animation Writers Caucus (AWC). According to the WGAW's website, the AWC Animation Writing Award is given to that member of the Animation Writers Caucus or Writers Guild who has advanced the literature of animation in film and/or television through the years, and who has made outstanding contributions to the profession of the animation writer. In 2017, Bird was awarded the Cinematic Imagery Award from the Art Directors Guild.[3] In 2018, he was awarded an Honorary Cristal award from the Annecy International Animation Film Festival in celebration of his vast career[4] and received the Variety Creative Impact in Animation award.[5]
Filmography
References