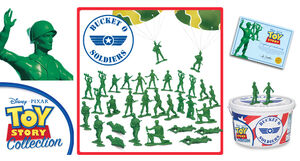 A Bucket O Soldiers replica produced by Thinkway Toys was released in fall 2009 as part of the "Toy Story Collection" line.
Description
From Thinkway Toys:
Highly detailed soldiers from DISNEY/PIXAR's digital data.
Reusable storage bucket holds 72 Soldiers including 2 with parachutes.
Variety of soldier poses and weaponry.
Includes a Toy Story Collection Certificate of Authenticity.
Trivia
Although Andy's "Bucket O Soldiers" contains 200 soldiers, this bucket contains only 72 soldiers. including 2 with working plastic parachutes.
Community content is available under
CC-BY-SA
unless otherwise noted.