Cameos, in-jokes, re-used animation and other trivia from Cars 2.
References to Cars
Near the beginning of the movie, Mater asks Lightning McQueen if he can handle Mater's plans, and Lightning says that he can handle anything. He also said that he can handle anything after Mater asks him if he wants to go Tractor Tipping in the first movie.
Several brands that sponsored Piston Cup teams in Cars appear in Cars 2 on advertisements in Tokyo. These includes Nitroade, RPM, Easy Idle, Vitoline, Mood Springs, Clutch Aid, Tank Coat, Gasprin, an allusion to Lil' Torquey Pistons and Dinoco. A concept art also shows Octane Gain. Also, Lightning McQueen had the same Rust-eze sponsor in the beginning of the movie.
At the end of the movie, Finn McMissile tells Mater that if he needs anything, just ask, and Mater says that there is one thing. That was very similar to at the end of Cars when Tex Dinoco tells Lightning McQueen that if he needs anything, just ask, and Lightning McQueen says that there is one thing.
Cameos
Gusteau's from Ratatouille appears under the name of Gastow's.
In Tokyo a billboard of Harryhausen's from Monsters, Inc. makes a cameo.
Also in Tokyo an advertisement for a Lotso bear from Toy Story 3 is seen.
An advertisement for BnL, from WALL•E, advertising "Lugnut in a cup", and that first appeared in Tokyo Mater, appears in Tokyo.
A113 appears three times in Cars 2:
In the beginning of the movie while McQueen and Mater are in Radiator Springs, the drive-in they pass by is playing a movie titled "The Incredimobiles", a reference to The Incredibles.
The jungle from which Miles Axlerod emerges during the clip on the Mel Dorado show is from Up.

Two references to the film's director, John Lasseter, appear in Cars 2:
In the credits, while the camera pans through a cartoon San Fransisco, the Pixar Animation Studios appears on the map with a giant Luxo Lamp above it.
Other Trivia
Cars 2 is the first sequel Pixar has produced not based on the Toy Story movies.
The world globe that appears on some posters has geographical differences with the real Earth : some regions have been streched and modified to get the silhouette of main characters of the movie : Ireland looks like Lightning McQueen, Quebec like Mater, island of Hispaniola like Finn McMissile and Lake Superior like Francesco Bernoulli.
The character team built 145 new character models for the film and 781 variants. These variants, which are primarily background cars, include 13 model variants – unique character models that are based on other new models – and 768 shading variants – models that are re-used from classic and new Cars, Cars 2 and Cars Toons models, but with new, unique paint schemes. In total, there are 926 new characters in Cars 2.[1]
Cars 2 is the first and so far only sequel to the Cars Movie Line.
State Farm is mentioned briefly, when McMissile and Shiftwell tell Mater that he is a secret agent, he thinks they mean an insurance agent, and sings, "Like a good neighbor, Mater is there!", a reference to the State Farm jingle.
There are some coincidences between Cars 2 and Toy Story 2. First of all, they are both sequels to the original movies. Second of all, some airplanes and an airport appears in both movies. Third of all, in both movies, somebody was blamed for doing something, and it later turned out to be someone else.

Cars 2 has one of the lowest scores Rotten Tomatoes has given to disney/pixar, with a average score of 35% based of 157 reviews by well known critics and stated as spoiled.
One car has eyes were her light bulbs should be.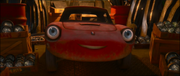 References
Community content is available under
CC-BY-SA
unless otherwise noted.