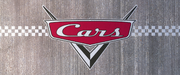 Full credits for Cars.
Directed By
Co-Directed By
Produced By
Associate Producer
Original Score Composed and Conducted By
Original Story By
Screenplay By
Film Editor
Supervising Technical Director
Production Designers
Supervising Animators
Directors of Photography
Shading Art Director
Matte Supervisor
Characters Supervisor
Characters Shading Supervisor
Sets Supervisor
Sets Shading Supervisors
Effects Supervisor
Crowds Supervisor
Rendering Supervisor
Optimization Supervisor
Production Manager
Sound Designer
Production Finance Lead
Executive Music Producer
Casting By
Cast
Story
Story Supervisor
Story Manager
Story Artists
Additional Screenplay Material
Additional Storyboarding
Digital Storyboarding & Effects
Additional Digital Storyboarding
Script Supervisor
Story Coordinator
Story Production Assistant
Art
Art Manager
Art Development Manager
Character & Environment Designers
Production Artists
Graphic Designers
Sculptor
Digital Painters
Matte Painters
Matte Technical Artists
Visual Development
Custom Paint Consultant
Additional Production Art
Art Coordinators
Art Production Assistant
Layout
Layout Managers
Racing Lead
Radiator Springs Lead
Senior Camera Operator
Layout Artists
Additional Layout
Layout Coordinator
Special Racing Consultants
Animation
Animation Manager
Directing Animators
Crowds Animation Lead
Animation Character Development
Animators
Additional Animation
Animation Technical Support
Fix & Additional Animation
Animation Coordinator
Animation Technical Coordinator
Animation Fix Coordinator
Animation Production Assistant
Characters & Crowds
Characters Manager
Characters Leads
Modeling & Articulation Artists
Shading Artists
Crowds Manager
Crowds Leads
Crowds Artists
Additional Crowds Artists
Characters & Crowds Coordinator
Editorial
Editorial Manager
Second Film Editors
Race Sequence Editing
Additional Editing
First Assistant Editor
Second Assistant Editors
Temp Music Editor
Editorial Coordinator
Editorial Production Assistant
Inventory
Smog Check Manager
Smog Check Coordinator
Sets
Sets Manager
Sets Technical Lead
Modeling Artists
Shading Artists
Lead Set Dressing Artist
Set Dressing Artists
Additional Sets Artists
Sets Coordinators
Lighting
Lighting Manager
Lead Lighting Artists
Lighting Development Lead
Lighting Technology Lead
Master Lighting Artists
Lighting Artists
Illumination Engineer
Lighting Coordinator
Lighting Fix Coordinator
Effects
Effects Manager
Effects Artists
Effects Visual Development
Effects Coordinator
Rendering & Optimization
Rendering & Optimization Manager
Rendering & Optimization Artists
Optimization & Technical Development Coordinator
Rendering Coordinator
Technical Development
Technical Interns
Production
Supervisor Of Production Resources
Assistants To The Director
Assistant To The Producers
Disney Production Representative
Assistant Production Accountant
Production Office Coordinator
Production Office Assistants
Additional Production Support
Software Development
V.P., Software Engineering
Team Leads
Production Engineering
Studio Tools
Research
Project Management & Administration
Dedicated to Joe Ranft
Renderman Development
Renderman Lead
Renderman Team
Renderman Products
Image Mastering
Manager
Lead Engineer
Administration Manager
Coordinator
Colorist
Camera Operators
Science And Engineering
Information Systems
V.P., Technology
A/V Engineering
Manager
Technical Lead
Team
Administration & Application Support
Manager
Team
Data Management Group
Manager
Technical Lead
Team
Desktop & Infrastructure
Managers
Team
Render Pipeline Group
Managers
Technical Lead
Team
Post Production
Post Production Sound Services
By Skywalker Sound
A Lucasfilm Ltd Company Marin County, California
Re-Recording Mixers
Supervisor Sound Editors
Sound Effects Editors
Foley Editors
Assistant Sound Designer
Assistant Supervising Sound Editors
Foley Artists
Foley Mixers
Foley Recordist
Mix Technicians
Additional Voices
Music
"Real Gone"
"Life Is A Highway"
"Find Yourself"
"Behind The Clouds"
"Our Town"
"Route 66"
and John Mayer
of Aware/Columbia Records
"Rust-Eze Polka"
Written, Performed and Produced by
"Rollin' In The Rearview"
"Songbird"
Written and Performed by Kenny G
Courtesy of Arista Records
by Arrangement with SONY BMG MUSIC ENTERTAINMENT
"My Heart Would Know" Written and Performed by Hank Williams Courtesy of Mercury Nashville Records Under License From Universal Music Enterprises
"Elvira"
"Star Spangled Banner" Adapted and Performed by Jimi Hendrix Courtesy of MCA Records Under License From Universal Music Enterprises
"Route 66"
Universal Music Enterprises
"Sh-Boom" Written by William Edwards
Carl Feaster Claude Feaster James Keyes

Floyd McRae Performed by The Chords Courtesy of Atlantic Recording Corp by Arrangement With Warner Music Group Film & TV Licensing
Score Recorded At Sony Pictures Scoring Stage & Signet Sound Studios
Orchestra
      Bruce Dukov            Susan Ranney           Rene M. Mandel
      James Walker           Eun-Mee Ahn            Daniel L. Higgins
      Richard L. Altenbach   Norda Mullen           Jacqueline Brand
      Geraldine Rotella      Roberto Cani           James M. Kanter
      Jeanne-Skrocki Evans   Greg Huckins           David Ewart
      Kim Hutchcroft         Julie Ann Gigante      Bill Liston
      Endre Granat           Joel Peskin            Clayton Haslop
      Gary S. Bovyer         Tamara Hatwan          Ralph Williams
      Miran Kojian           Phillip Ayling         Aimee Kreston
      Thomas G. Boyde        Natalie Leggett        Barbara Northcutt
      Dimitrie Leivic        Michael R. O'Donovan   Phillip Levy
      Kenneth Munday         Katia Popov            David Riddles
      Rafael Rishik          James W. Thatcher      Mark Robertson
      David Duke             Anatoly Rosinsky       Brian D.A. O'Connor
      Marc Sazer             John A. Reynolds       Lisa M. Sutton
      Richard Todd           Sarah Thornblade       Phillip Edward Yao
      Irina Voloshina        Malcolm McNab          Miwako Watanabe
      Rick Baptist           Roger Wilkie           Jon Lewis
      Gabriel Witcher        Warren H. Luening      Kenneth Yerke
      William Booth          Simon Oswell           Alan Kaplan
      Brian Dembow           Andrew Martin          Marlow Fisher
      Bruce Fowler           Rick Gerding           Andrew Thomas Malloy
      Keith Greene           William F. Reichenbach Roland Kato
      George Thatcher        Darrin McCann          J. Tommy Johnson
      Victoria Miskolczy     Randel Currie          Michael Nowak
      George Doering         Shanti D. Randall      John Goux
      Cassandra Richburg     Gary Hooker            David F. Walther
      Weldon Dean Parks      Antony Cooke           Alan Estes
      Steve Erdody           Steven Schaeffer       Christine Ermacoff
      Michael Fisher         Dennis Karmazyn        Gregory Goodall
      Armen Ksajikian        Jim Keltner            Timothy Landauer
      Edward Klancnik        David Low              Peter Limonick
      Andrew Shulman         Benjamin Sesar         David Speltz
      Donald J. Williams     Cecelia Tsan           Michael A. Lang
      Michael Valerio        James Cox              James Johnson
      Kendal Marcy           Nico Abondolo          Jo Ann Turovsky
      Drew Dembowski         Allison Allport        Christian Kollgaard
      Tommy Morgan           Edward Meares          Frank Marocco
                             Bruce Morgenthaler

                         Color Timer Terry Claborn
                 Negative Cutting By Buena Vista Negative Cutting

Thanks To Everyone At Pixar Who Supported This Production
Executive Team
Administration & Finance
Creative Services & Marketing
Consumer Products
Development
Facilities
Human Resources
Pixar Shorts
Pixar University & Archives
Purchasing & Relocation
Safety & Security
Craft Services By Luxo Cafe
Production Babies
Abigail
Juni
Ada
Kai
Althea
Kaia
Alyssa
Kathryn
Anna
Kaylia
Ariana & Miranda
Keaton
Asa
Kendra & Kekoa
Asher
Lola
August
Luca
Ava
Lucas
Ava
Lucia
Bastien
Lucy
Chris
Luke
Dana
Maggie
Desmond
Maren
Diego
Marie
Dylan
Matteo & Jordan
Eden
Max
Eleanor
Maya
Elsa
Michael
Emilia
Michael
Emily
Nathan
Emma
Nikki
Ethan
Noah
Evajoy
Olivia
Eve
Paden
Finn
Paige
Gracie
Rachel
Hazy
Romy
Janine
Sam
Jean
Stephanie
Johnny
Sydney
Joseph & Paige
Theo
Joshua
Thom & Libby
Josh
Zachary
Julia
Special Thanks To
A Special Thanks To Those Who Inspire Us On Route 66, "The Mother Road"
Kansas
Scott Nelson, Eisler Brothers Old Riverton Store, "Home Of The Hand-Crafted Sandwiches", Riverton, KS
Dean & Paula Walker, Baxter Springs, KS
Oklahoma
Dawn Welch, The Rock Cafe, "Home Of The Fried Pickle Spears", Stroud, OK
Jim Ross, Arcadia, OK
Butch Breger & His Momma, Round Barn, Arcadia, OK
Pat Smith & Staff, OKlahoma Route 66 Museum, Clinton, OK
Walter S. "Doc" Mason, Best Western Tradewinds Courtyard Inn, Clinton, OK
Ray & Shirley Killian, RS&K Railroad Museum, Sayre, OK
Harley & Annabelle Russell, The Mediocre Music Makers, Sand Hills Curiosity Shop, Erick, OK
Wanda Queenan, National Route 66 Museum, Elk City, OK
Glenna Hollis & Kay Farmer, Country Dove, "Home Of The French Silk Pie", Elk City, OK
Texas
Delbert & Ruth Trew, The Devil's Rope Museum, McLean, TX
Stanley Marsh 3, The Cadillac Ranch, Amarillo, TX
Becky Ransom, The Big Texan Steak Ranch, "Free 72-Ounce Steak If Consumed In 60 Minutes", Amarillo, TX
Fran Houser, The Midpoint Cafe, "Home Of The Ugly Crust Pie", Adrian, TX
New Mexico
Eddie "No Money" Shields, Santa Rosa, NM
Dale & Hilda Bakke, The Blue Swallow Motel, Tucumcari, NM
Mike & Betty Callens, Tee Pee Curios, Tucumcari, NM
Arizona
Aggie Montano, Alice & Stanley Gallegos, Joe & Aggie's Cafe, "Hottest Chow On The Mother Road", Holbrook, AZ
Antonio & Cindy Jaquez, Jack Rabbit Trading Post, "Home Of The 'Here It Is' Sign", Near Joseph City, AZ
Allan Affeldt & Tina Mion, La Posada, Winslow, AZ
Diane Patterson, Roadworks Gifts & Souvenirs, Their "Stand Is On The Corner" In Winslow, AZ
Janice Griffith, Old Trails Museum, Winslow, AZ
Paul & Sandi Taylor, Route 66 Magazine, Williams, AZ
Angel Delgadillo, "Guardian Angel Of Route 66", Angel & Vilma Delgadillo's Old Fashioned Route 66 Gift Shop, Barber Shop & Museum, Seligman, AZ
Juan Delgadillo, Sno Cap Drive-In, Seligman, AZ
A Special Thanks To Those Who Inspired Us In The World Of Racing
Steve Page, Infineon Raceway
Humpy Wheeler
Wanda Goddard-Baird
Lowes Motor Speedway
O. Bruton Smith
Marcus Smith
John Zudell
Randy Wray
Speedway Motor Sports Inc.
Las Vegas Motor Speedway
Jeff Byrd, Bristol Motor Speedway
Lesa France Kennedy
ISC Motorsports
Daytona International Speedway
Phoenix International Speedway
Jay Frye
Ryan Pemberton
MB2 Motorsports
A Special Thanks To Those Who Inspired Us In The World Of The Automobile
J Mays
Jennifer Flake
Dave Bonbright
Don & Danny Sommer
Dutch Mandel
Tom Medley
Art Fitzpatrick
Manuel Angel
Richard & Linda Kughn
Brian Joseph
Howard Buck
Joe Farrer
Frank Stephenson
Jay Wetzel
Antonio Ghini
Ivan Zaremba
Martin Peters
Lonie Lopez
Jim Fets
Patrick Schiavone
Robert F. Pauley
Jimmy & Jomarie Schmidt
Linda King
Jesse Alexander
Porsche AG
Volkswagen AG
General Motors Corp.
Mazda Motor Corp.
Ferarri S.p.A.
Mack Trucks, Inc.
Maserati S.p.A.
Peterbilt Trucks
Ford Motor Company
Kenworth Trucks
Dailmlerchrysler Corp.
Goodyear Tire & Rubber Co.
Fiat Auto S.P.A.
North American International Auto Show, Detroit, Mi
The Name, Image And Likeness Of Elvis Presley Appears Courtesy Of Elvis Presley Enterprises, Inc.
Cadillac Range Inspired By Cadillac Ranch By Ant Farm (Lord, Michels & Marquez) C 1974
CPUs For Final Rendering
Animated On Marionette(TM)
Rendered With
Prints By TECHNICOLOR
"Cars" Books Available Wherever Books Are Sold
Look For "Cars" Video Games Where Games Are Sold
Exclusive "Cars" Merchandise Available At Disney Stores
To Learn More About The Creators Of "Cars," Visit www.pixar.com
Copyright © MMVI Disney Enterprises, Inc./Pixar Animation Studios, All Rights Reserved.
This Motion Picture Was Created By Pixar Talking Pictures For The Purposes Of Copyright Law In The United Kingdom.
Original Soundtrack Available From
Distributed By BUENA VISTA PICTURES DISTRIBUTION
Created And Produced At Pixar Animation Studios, Emeryville, California

Community content is available under
CC-BY-SA
unless otherwise noted.