The Casino di Porto Corsa, or Porto Corsa Casino, is a location in Cars 2.
One of the highlights of Porto Corsa, the casino is built on a rocky outcropping shaped like a 1948 Fiat 500 Topolino.[1] It is a luxuous, ornate building, with large windows, and marble and golden details everywhere.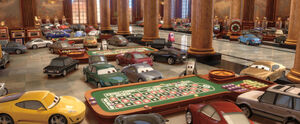 Its main halls are filled with crap tables as well as game machines shaped like gas pumps, surrounded by a crowd of mainly luxury cars. At the craps tables, the game is played with fuzzy dice of the same type as those sometimes hung from a car's rearview mirror.[1]
The casino has a large private hall, which is used by the Lemons family heads to hold a meeting during the World Grand Prix race hosted by Porto Corsa. For this occasion, the tables in the room were decorated with piles of lemons, and the drinks served consisted of lemonade, a clear allusion to their nickname of Lemons. Mater disguised as Ivan visits the casino on a mission to infiltrate the meeting and find out who is sabotaging the races. When his cover was blown, he escaped with much shooting, damaging much of the hall's furniture.
Trivia
Concept art shows there was an earlier version of the casino whose roof towers were not shaped as spark plugs and that had green-colored details. While it was not used in the final film, this earlier version was featured on the image that was used as backdrop for almost all Cars 2 merchandise, including the first wave of Cars 2 die-casts.
It can be noted that domestics wearing the uniform of the casino were present during the private Lemons meeting, despite the sensibility of the information exchanged. This may suggest that the casino is somehow linked to the Lemons organization.
Gallery
References
Community content is available under
CC-BY-SA
unless otherwise noted.