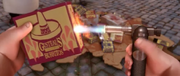 Chef Gusteau's Frozen Foods (named "Gusteau's Microwaves" on the ads and the picture beside) is a line of microwaveable frozen foods marketed and owned by Chef Skinner.
History
After Auguste Gusteau's death, Skinner becomes owner and the head chef of Gusteau's restaurant and creates a line of frozen foods with Gusteau's image in the ads to woo customers. It is said to be a success as many kinds of foods are available for consumers. Unfortunately however, despite being a success, after Linguini became owner of Gusteau's, the line was cancelled and he and the other staff proceed to cruelly burn down the last remaining line of the frozen foods wasting thousands of dollars of food.
Line
The line of Chef Gusteau's Frozen Foods:
Burritos
BBQ Dips N' Ribs
Tooth Pick N' Chicken
Chopsocky Pockets
Haggis Bites
Corn Puppies (the entire line was discontinued before this product was released)
Community content is available under
CC-BY-SA
unless otherwise noted.