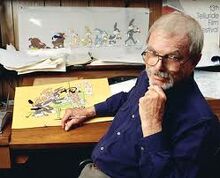 Charles Martin "Chuck" Jones (September 21, 1912 - February 22, 2002) was an American animator, cartoon artist, screenwriter, producer, and director of animated films, most famous for his work at Warner Brothers studio with the Looney Tunes characters. Most notably, his work with Bugs Bunny, Daffy Duck, and Porky Pig, and several different characters he created, like Pepe Le Pew, Marvin the Martian, Road Runner, and Wile E. Coyote. He was also known for teaming up with Dr. Seuss to make the animated versions of the Grinch, Horton, and The Cat in the Hat.
John Lasseter stated that Jones has influenced him personally and took the lessons he taught him to heart from the short films he made to ''Toy Story''.
After the release of Toy Story 2, John Lasseter received a letter from Jones, saying he loved the film and animation, especially the character of Jessie. Lasseter has the letter framed on his wall.
Community content is available under
CC-BY-SA
unless otherwise noted.