Chuki was a minor character from the movie Cars. She is only seen as the Japanese news reporter for the movie, discussing the whereabouts of the missing Lightning McQueen.
Cars
By day Chuki is a reporter for OEM news, but by night she's the lead singer of the infamous rattle and roll band, "Grid Lock." She has fans all over the world and has received several musical award nominations for her signature tire-squealing vocals.
Cars 2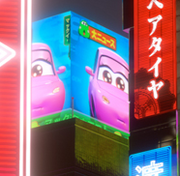 She is set to appear in Cars 2.
Toy
She was released as a Cars-single in 2008 for the series
The World of Cars
.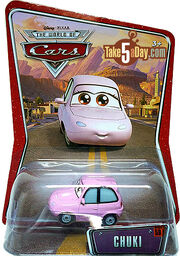 Trivia
Chuki makes a cameo appearance in the background of Tokyo Mater reporting the news .
References