Chuki was a minor character from the movie Cars. She is only seen as the Japanese news reporter for the movie, discussing the whereabouts of the missing Lightning McQueen.
"By day Chuki is a reporter for OEM news, but by night she's the lead singer of the infamous rattle and roll band, "Grid Lock." She has fans all over the world and has received several musical award nominations for her signature tire-squealing vocals."[2]
Tokyo Mater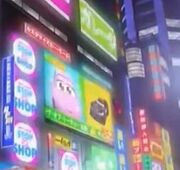 Chuki makes a cameo appearance in the background of
Tokyo Mater
reporting the news.
Cars 2
"Chuki the happiest car on the track comes to us from one of the fanciest restrooms in all Japan. She is lightweight and surprisingly fast. Chuki is a pretty pink little vehicle, spreading laughter and joy throughout the races."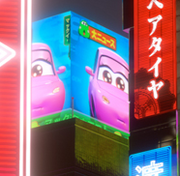 Chuki made a minor appearance in
Cars 2
on an advertisement. But she does, strangely, appear in
Cars 2: The Video Game
as a playable and unlockable character. She is lightweight and surprisingly fast. The in-game description of Chuki identifies her as the on-screen toilet assistant (above), though it is unknown if this is true for the film itself.
Trivia
She was released as a Cars-single in 2008 for the series The World of Cars.
According to her die-cast, Chuki's license plate says T610635.
Diecasts
References
↑ "Cars Finder" (supplementary material on Blu Ray Disc release of Cars). 2007. Blu Ray Disc. Walt Disney Home Entertainment, 2007.
Community content is available under
CC-BY-SA
unless otherwise noted.