"Adventure is Out There!"
This article features content from Disney and Pixar or its subsidiaries that has yet to be released.
To prevent speculation, please add reliable sources to the unreleased content. In addition, only information from generally available media sources such as trailers, TV spots or interviews should be included. Any content not abiding by these guidelines may be removed.
Thank you!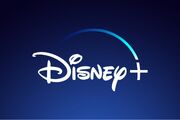 Disney+ is a streaming service produced by the Walt Disney Company and set to be launched in November 12, 2019.[1] Heading the new service will be Agnes Chu, Sean Bailey, Tendo Nagendo, Sam Dickerman, and Louie Provost.[2]
It will start as a domestic service, and then expand internationally after fall 2019. The service will be streaming Disney-owned original content from Disney, Pixar, Marvel Entertainment , Star Wars, 20th Century Fox, and National Geographic channels. There will be no R-rated films or TV-MA television series. Newer R-rated films and TV-MA series will go to Hulu.
Magic Camp, Noelle, The Sword in the Stone (2019 film), and Lady and the Tramp (2019 film) will be films released straight to Disney+.
On the TV side, Disney+ will produce a documentary series called Ink & Paint, a High School Musical TV series, a Monsters, Inc. animated series, a Star Wars TV series called The Mandalorian, a Muppets TV series, and a Marvel Studios TV series.[3]
Original programming
Film
Magic Camp
Noelle
Lady and the Tramp (2019 film)[4]
The Sword in the Stone (2019 film)[5]
Phineas and Ferb Candace Against the Universe [1]
Togo[1]
Peter Pan (live-action film)
Timmy Failure[1]
Stargirl (film)[1]
Sister Act 3
The Parent Trap Remake
Father of the Bride Remake
Three Men and a Baby Remake
Secret Society of Second Born Royals
Shorts
Television
High School Musical: The Musical: The Series [3]
Ink & Paint[3]
Star Wars: The Clone Wars (season 7)
The Mandalorian[3]
101 Dalmatian Street (U.S. release)[9]
Book of Enchantments[10]
Into the Unknown: Making of Frozen 2[1]
Untitled Rogue One prequel
The World According to Jeff Goldblum
Magic of the Animal Kingdom
Encore!
Be Our Chef
Chip 'n' Dale[11]
Untitled The Mighty Ducks series[12]
Muppets Live Another Day[3]
The Imagineering Story
Untitled The Sandlot series
Gallery
References
↑ 1.0 1.1 1.2 1.3 1.4 1.5 1.6 "Disney+ launch date announced". https://www.thewaltdisneycompany.com/disney-spotlights-comprehensive-direct-to-consumer-strategy-at-2019-investor-day/

. Retrieved April 11, 2019

.

 

↑ "New Star Wars and Marvel Series Announced for Disney+ Streaming Service". Disney. November 8, 2018. https://www.thewaltdisneycompany.com/new-star-wars-and-marvel-series-announced-for-disney-streaming-service/.

 

↑ 3.0 3.1 3.2 3.3 3.4 "Disney Unveils Inaugural Streaming Service Launch Slate To Town; No R-Rated Fare". February 8, 2018. http://deadline.com/2018/02/disney-streaming-service-launch-slate-star-wars-marvel-1202281846/.

 

↑ N'Duka, Amanda (March 19, 2018). "Charlie Bean To Helm Disney's Live-Action 'Lady And The Tramp' Adaptation". http://deadline.com/2018/03/charlie-bean-disney-live-action-lady-and-the-tramp-movie-1202345900/.

 

↑ 6.0 6.1 6.2 6.3 "Pixar's Announces New Short Film Program, SparkShorts". January 11, 2019. https://www.slashfilm.com/pixar-sparkshorts-short-films/.

 

↑ "@DisneyPixar Will make it's first series: #Purl the first 3 episodes will be on @Disney's YouTube Channel the rest of the series Will be a #DisneyPlus Original" (Tweet). January 17, 2019. https://twitter.com/DisneyTVA/status/1085644393824976896.

 

↑ "Short Circuit Program Films Coming to Disney+ Next Year". May 17, 2019. https://www.laughingplace.com/w/news/2019/05/17/short-circuit-program-films-coming-disney-next-year/.

 

↑ ""101 Dalmatian Street" and "Bluey" Coming to Disney+". June 11, 2019. https://www.laughingplace.com/w/news/2019/06/11/101-dalmatian-street-bluey-coming-disney/.

 

↑ "Disney+ to Develop Series Based on Iconic Disney Villains". February 27, 2019. https://variety.com/2019/tv/news/disney-plus-villains-series-1203151171/.

 

↑ https://www.animationmagazine.net/tv/first-look-disney-unveils-pics-from-new-chip-n-dale-series-at-annecy/
↑ Goldberg, Lesley (January 22, 2018). "'Mighty Ducks' TV Series in the Works (Exclusive)". https://www.hollywoodreporter.com/live-feed/mighty-ducks-tv-series-works-1077067.

 
Community content is available under
CC-BY-SA
unless otherwise noted.