Dusty Rust-eze is a character in Cars.
Cars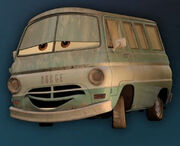 "Dusty and his brother Rusty like to help out their fellow rusty cars almost as much as they like telling jokes. And that's why they invented Rust-eze Medicated Bumper Ointment. Be it the distinguished browning around the wheel well or the bumper that's completely falling off, Rusty and Dusty are there with a can of Rust-eze to fit it, or at least ease the burning, itching, and soreness that plagues so many cars."[1]
Cars 3
Dusty returned in Cars 3 alongside his brother Rusty, though like the original they play minor roles.[2]
Trivia
Dusty is modeled as a 1965 Dodge A100 Van.
Dusty's license plate reads "EZE". When combined with his brother's, the result is RUSTEZE.
Die-cast
References
↑ "Cars Finder" (supplementary material on Blu Ray Disc release of Cars). 2007. Blu Ray Disc. Walt Disney Home Entertainment, 2007.
Community content is available under
CC-BY-SA
unless otherwise noted.