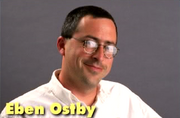 Eben F. Otsby
has been with
Pixar
since the start. He helped with much of the commentary on the Pixar Short Films Collection Volume 1.
Worked on: Feature Films: Toy Story: Associate Technical Director A Bug's Life: Supervising Technical Director (with William Reeves) Toy Story 2: Modeling Supervisor Monsters, Inc.: Modeling Supervisor Cars: Supervising Technical Director Ratatouille - WALL•E: Production Resources Up - Brave: Pixar Senior Technology Team Monsters University: Film Production Resources Inside Out - Incredibles 2: Pixar Production Department Heads
Short Films: The Adventures of André & Wally B.: 3D Animation Program Luxo, Jr.: Animation Program,Models & Rendering Red's Dream: Technical Director (with William Reeves & H.B. Siegel), Modeling & Animation Software Tin Toy: Technical Director & Additional Animator (with William Reeves & Craig Good) Knick Knack: Filmmaker (with John Lasseter,William Reeves,Ralph Guggenheim,Craig Good,Don Conway,Flip Phillips,Yael Miló,Anthony A. Apodaca & Deirdre Warin) For the Birds: Modeling Supervisor The Blue Umbrella,Party Central,Lava,Sanjay's Super Team,Piper,Bao,Purl,Smash and Grab,& Kitbull: Special Thanks
Gallery
Community content is available under
CC-BY-SA
unless otherwise noted.