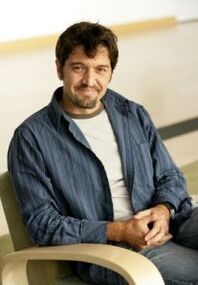 Enrico Casarosa is a Pixar story artist, director, and writer. He directed and wrote the short film, La Luna, for which he received an Academy Award nomination for Best Animated Short Film. He was a head of story in The Good Dinosaur. Then he was added to the Pixar Senior Creative Team during Coco, as well as Brian Larsen, Steve Purcell, Angus MacLane, Mary Coleman, and Ronnie del Carmen.
Biography
Born in Genoa, Italy, Casarosa moved to America in his twenties. He would then work at Blue Sky Studios for a period of time, as a storyboard artist on Ice Age, before joining Pixar in 2002.
He would work on Cars, Ratatouille, and Up as a storyboard artist before moving on to direct his own short film, La Luna, in 2011. The film screened selectively at festivals in 2011, and premiered in theatres alongside Brave in the summer of 2012. It also earned him a nomination for the Academy Award for Best Animated Short Film, although it ultimately lost to The Fantastic Flying Books of Mr. Morris Lessmore.
"
Enrico Casarosa joined Pixar Animation Studios in January 2002. He began working as a story artist on Cars and the Academy Award-winning feature, Ratatouille. Casarosa's next project was as story artist on Disney•Pixar's Academy Award®-winning feature film, Up. Most recently, Casarosa made his directing debut with the short film, La Luna. Currently, Casarosa is working as head of story on an upcoming Pixar film.

As a story artist, Casarosa creates visual sequences from the script. Story artists also generate new ideas and gags, and provide feedback regarding the plot, characters and overall story of the film. With help from story artists, the film's director finds the story they want to tell and the best cinematographic way to tell it.

Casarosa found early influences in Hayao Miyazaki's work and grew up watching Miyazaki's TV series in Italy. Born and raised in Genoa, Casarosa moved to New York City in his twenties, to study animation at the School of Visual Arts and Illustration at the Fashion Institute of Technology.

Before coming to Pixar, Casarosa worked as a storyboard artist at Blue Sky Studios on Ice Age and Robots. He also worked as a background designer and storyboard artist for a number of Disney Channel Television Series' including 101 Dalmatians and PB&J Otter. Casarosa lives in San Francisco, California with his wife, Marit and their daughter, Fio Giulietta.[1]

"
Filmography
References