"Can anyone tell me Mr. Bile's big mistake? Anyone?"
—Flint
Flint (identified on the Disney website as Ms. Flint) is a character in Monsters, Inc.
Monsters, Inc.
Flint supervises the training of new scarers. She is weary of the task, especially when dealing with the likes of Bile. An example is when she asks Bile what he did wrong after coming in. She rewinds the footage to reveal that he left the door wide open (literally). She then asks him why is this bad, to which Bile replies, "It could let in a draft?" Mr. Waternoose cuts in and says, "It could let in a child." He then explains how toxic kids are, and for one to come in contact with any monster is dangerous because a single touch could kill them. Flint is a tall, red and black monster with dark red fins attached to her eyes, has long, sharp claws, wears a black jacket and a long, snakelike tail.
Monsters University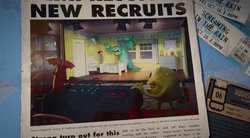 In Monsters University, Flint is pictured during the montage showing Mike and Sulley gaining promotions in Monsters, Inc. near the end of the film. She can be seen training Sulley to scare the child in the simulation room.
Community content is available under
CC-BY-SA
unless otherwise noted.