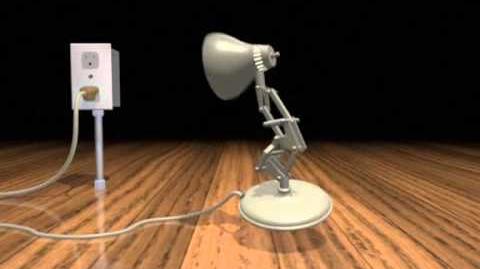 Front and Back is an educational short film directed produced by Pixar for Sesame Street featuring the character of Luxo, Jr., originally from the short film Luxo, Jr.. Directed by John Lasseter, the short built upon the original film, focusing on little Luxo demonstrating the concept of "front" and "back". The short was included on the Pixar Short Films Collection DVD and Blu-ray, and was on the Sesame Street anniversary DVD 40 Years of Sunny Days.
In the short, Luxo, Jr. shows his front and back, until he eventually gets exhausted and falls over.
Sesame Street producer Arlene Sherman recalled how the shorts came about stating: "With Pixar, I was helping to train their animators for Toy Story. They needed to gear up a lot of people, so the Pixar people and I had a mutual feeling about the show and sensibility, and so I would never know when I was getting another animation. I would approve the storyboards, then I would get these packages in the mail, with these wonderful Luxo Jr. pieces. I've had to work a lot with relationships, and use the good feeling that Sesame Street is promoting. Working as a producer is a real advantage there, because people want to work for the show."[1]
Credits
See also
References
↑ Willems, Mo. "A Conversation with Arlene Sherman and Abby Terkuhle." Animation World Magazine. September, 1997
Community content is available under
CC-BY-SA
unless otherwise noted.