Wiki Targeted (Entertainment)
Play Sound
Giggle McDimples is a character who was introduced in Pixar's 21st feature film, Toy Story 4. She is a miniature police officer toy who accompanies Bo Peep.
Personality
Giggle McDimples has a bubbly, excited personality and takes her role as a "cop" somewhat seriously.
Appearance
A tiny figurine, Giggle McDimples wears a typical blue cop uniform, a lighter blue shirt and darker blue skirt, with a dark blue policewoman's hat, black shoes, black tie, and black leather belt. Her head and hair is roughly the same height as the entire rest of her body, and considerably wider, and her skin is caramel as seen in her face and arms due to her sleeves being cut off.
Toy Story 4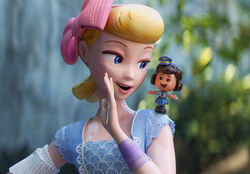 Introduced to Woody by Bo Peep after pulling him out of the playground, Woody sheepishly makes her acquaintance, Giggles already knowing about him from Bo. Seeing Woody's badge, Giggles takes a liking to Woody as a fellow "cop". Woody tells Giggles about how Bo kept Molly Davis company at night when she was scared, and eventually the group heads back to the carousel in Bo's skunk car.
At the top of the carousel, where Woody gazes at Bo, Giggles asks what Woody is looking at, shattering the moment. Continuing on with Bo and Woody to help rescue Forky from Gabby Gabby and her Bensons in the antique store, helping Buzz Lightyear acquire the key to Gabby Gabby's cabinet, Giggles ends up eaten by a cat in the botched rescue attempt. Eventually Giggles is thrown up after the cat is lead out of the antique store by Duke Caboom. Covered in saliva, Giggles coughs and, after recovering, throws in with Bo in abandoning Woody and the attempt to rescue Forky.
En route to the carousel, Giggles relates to Bo how annoying Woody is, how his sense of loyalty is aggravating, which inadvertently causes Bo to admit that his loyalty is what Bo loves most about him. Bo turns around, and heads back to get Woody, Giggles accompanying her throughout to the end of the film.
Trivia
She first appeared on the French teaser poster released in February 2019.
The Pet Patrol playset that Giggle lives in is available as a real life toy. [1]
McDimples and her playset seems to be based on real-life toy brand "Polly Pocket".
Videos