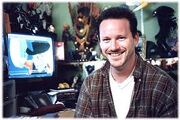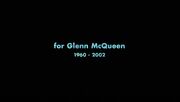 Glenn McQueen
(
December 24, 1960
 -
October 29, 2002
) was a Canadian-American animator and supervising character animator at Pixar and PDI.
Glenn was a graduate at Sheridan College and later enrolled into a New York Institute of Technology Computer Graphics Lab where he created 3D productions for TV commercials. McQueen was one of the first employees to join Pacific Data Images Character Animation Group in 1991 where he worked on several animation projects. He moved to Pixar in 1994 because of his interest in Toy Story and his respect of John Lasseter. He was the supervising animator on a number of popular Pixar movies including Toy Story, A Bug's Life, Toy Story 2 and Monsters, Inc.
Death
McQueen died from melanoma in Berkeley, California, on October 29, 2002. He died during the filming of Finding Nemo. He was only 41. John Lasseter once referred to McQueen as "the heart and soul of the animation department"[1]. Finding Nemo was dedicated to McQueen, and there is a short tribute to him on the DVD. To see it, from the main menu of disk one, select 'Bonus Features' and then 'Visual Commentary'. Select 'Visual Commentary Index', go to the last page of the index and select 'Glenn McQueen Tribute'. He is survived by his wife, Terry and his daughter.
His surname was later used in the Cars series character, Lightning McQueen.
Filmography
Animator
Supervising Animator
Trivia
Pixar Canada was also known as The Glenn McQueen Pixar Animation Center because of McQueen's death in 2002. 
References
Community content is available under
CC-BY-SA
unless otherwise noted.