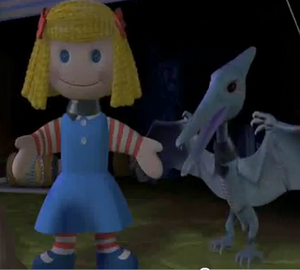 Sid: "Janie's all better now."
Hannah: *screams* "Mom!"
Sid: "She's lying! Whatever she says, it's not true!"
—Sid and Hannah after giving Janie her "operation"

Janie and Pterodactyl are two of Sid's toys. Originally, Janie belonged to Sid's sister, Hannah, until Sid stole it from her and ran to his room. In Toy Story, Sid switched their heads but the other mutant toys fixed them with tape afterwords. During Woody's escape plan they rode Jingle Joe for transportation. In Toy Story 3 at Sunnyside Daycare Center more Pterodactyls are seen that are similar to this one, but they are purple & green and this one is gray.