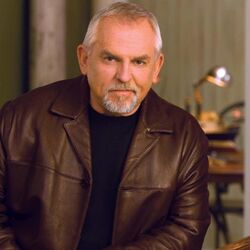 John Dezso Ratzenberger (born April 6, 1947) is an American actor, voice actor, and entrepreneur who was said to be Pixar's "good luck charm" and performed the voice of at least one character in every feature-length Pixar film until the release of the film Soul in which he did not voice any characters. Although he didn't voice any character in Soul, the director confirmed he did have a non-voice cameo in the film, in which his likeness was used.[1][2] He didn't voice a character in Luca either.
He is, however, probably most famous for his Emmy-nominated role as Cliff Clavin on the TV show Cheers. Besides voicing a character in most Pixar films, he is also a team member of the Pixar Softball Team. Ratzenberger also hosted the documentary film Pixar: 20 Years of Animation and Counting. He said in an interview that out of all the characters he has voiced for Pixar, P.T. Flea from A Bug's Life is his favorite one that he's done. Ratzenberger was married to Georgia Stiny from 1984-2004 (divorced) by whom he has two children: a son named James John Ratzenberger born in 1987 and a daughter named Nina Katherine Ratzenberger born in 1989.
On November 6, 2012, John Ratzenberger married his girlfriend Julie Blichfeldt.
Film roles
Trivia
Gallery
References