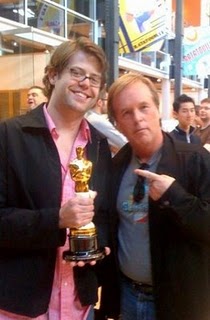 Justin Wright (March 8, 1981 – March 18, 2008) was a story artist and animator for Pixar. Some of his work included the end credits of Ratatouille, WALL•E and the short film Presto.
Wright was born with many heart complications and required a heart transplant surgery when he was 12. His doctor knew people at Pixar, so once Justin had recovered from surgery he brought him for a tour of the studio.[1] From then on it was Justin's dream to be a storyboard artist for the studio. He worked for a short while as a production assistant but quit to hold out for the job he really wanted. He realized his dream when he was offered an internship that turned into a full-time job.
Wright worked in the story department at Pixar for only a year before passing away on March 18, 2008 from a heart attack. He was only 27. WALL•E was dedicated to him.
Filmography
Animator
Production Assistant
Story Artist
Resources
External links
Community content is available under
CC-BY-SA
unless otherwise noted.