Keanu Charles Reeves (born September 2, 1964) is a Canadian actor. Known for his roles in John Wick and The Matrix, Reeves played the Canadian stunt toy Duke Caboom in Toy Story 4.
Selection for his role as Duke Caboom
Toy Story 4 director Josh Cooley and other producers set up a blind voice test for prospective Canadian actors to fill the role for Duke Caboom, and when they heard Reeves' voice they yelled out "Wait, stop! Who is that?", not yet knowing whose voice it was but finding it to be excellent.[1]
Production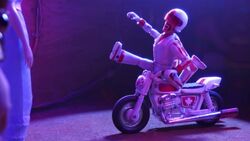 Flying down to Pixar's California campus to see if the role suited him, Reeves quickly began to influence Duke Caboom as a character. Taking lunch with the cast, Reeves became the inspiration for Duke's obsession with "posing" when he literally jumped onto a table and began acting out poses, much to Mark Nielsen's delight, saying "that is Duke Caboom!"[2]
Reeves continued to expand upon Duke Caboom, originally intended to be little more than a gimmick, querying producers on what exactly makes Duke "tick", what his fears were, what his inspirations are. In an effort to answer these questions, Duke became a much more fleshed out character as a backstory of disappointment was formulated to add depth to Duke and make his actions more readily relatable.[3]
Trivia
Due to the concentration of Canadian animators working at Pixar, a "maple leaf crew" formed around Keanu Reeves and Duke Caboom, with Canadians being primarily responsible for the character.[4]
In order to get into character for the role, Reeves would actually say "kaboom!" prior to recording lines.[5]
Having co-founded a motorcycle company, Reeves did have input on the type of motorcycle Duke Caboom ended up riding. The directors initially were happy to make the motorcycle stylistically similar to one of Reeves' own motorcycles, but Reeves deliberately did not choose a style similar to his own, preferring the toy version instead.[6]
Gallery
References
Community content is available under
CC-BY-SA
unless otherwise noted.