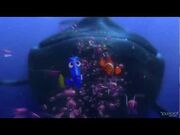 Krill are minor characters in Finding Nemo.
Finding Nemo
In Finding Nemo, the krill are first seen swimming away from a giant whale, and they all tell Marlin and Dory to swim away. Dory looks at the krill swimming away, when suddenly, the whale eats Marlin and Dory.
Trivia
The krill also appeared in the Finding Nemo video game, where they have deep voices instead of high-pitched voices. They follow Nemo if he collects them, and they protect him from any danger. But when Nemo gets struck by a bad guy, a few of the krill will swim away from Nemo.
Community content is available under
CC-BY-SA
unless otherwise noted.