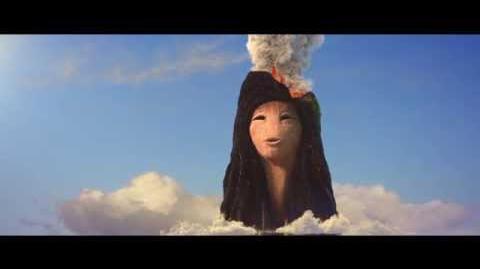 Lava is a short film attached to the theatrical release of Inside Out. It is directed by James Ford Murphy and produced by Andrea Warren.[2] It is described as a "musical love story taking place over millions of years that is inspired by the isolated beauty of tropical islands and the explosive allure of ocean volcanoes." The story follows the love story of two volcanoes, Uku and Lele. It features a song, "Lava", which is written by Murphy and performed by Kuana Torres Kahele and Napua Greig, who voice the two volcanoes.[1][3]
Lava premiered in August 2014 at the Hiroshima International Animation Festival.[1] It won the Best 3D Short Creative Arts award from the Advanced Imaging Society[4].
Plot
Uku is a lonely volcano lost in the ocean. Inspired by the animals he sees around him, he sings every day a song where he expresses his wish to have someone to "lava". But millions of years go by, and he starts to sink into the ocean, still alone. However, unbeknownst to him, another volcano, Lele, has been growing underwater towards the surface, fueled by the love of his song.
Millions of years later, Lele is a tall volcano at the surface of the ocean. However she is looking in the wrong direction and cannot see the sinking Uku just behind her. She sings Uku's song and Uku, now underwater, hears her sing. It fuels him with so much love that his fire is reanimated and he enters in eruption again. Years later, Uku and Lele are joined together and form a single island as they sing about their happiness.
Song lyrics
[Uku]

A long, long time ago there was a volcano
living all alone in the middle of the sea
He sat high above his bay watching all the couples play
And wishing that he had someone, too.
And from his lava came this song of hope that he sang
out loud everyday for years and years.
I have a dream I hope will come true
That you're here with me and I'm here with you
I wish that the earth, sea, the sky up above-a
will send me someone to lava.
Years of singing all alone turned his lava into stone
until he was on the brink of extinction
But little did he know that living in the sea below
another volcano was listening to his song.
Everyday she heard his tune, her lava grew and grew
because she believed his song was meant for her
Now she was so ready to meet him above the sea
As he sang his song of hope for the last time.
I have a dream I hope will come true
That you're here with me and I'm here with you
I wish that the earth, sea, the sky up above-a
will send me someone to lava.
[eruption]
Rising from the sea below stood a lovely volcano
Looking all around but she could not see him
He tried to sing to let her know that she was not there alone
But with no lava, his song was all gone
He filled the sea with his tears and watched his dreams disappear
As she remembered what his song meant to her.
[Lele]

I have a dream I hope will come true
That you're here with me and I'm here with you
I wish that the earth, sea, the sky up above-a
will send me someone to lava.
[eruption]
[Uku]

Oh they were so happy to finally meet above the sea
All together now their lava grew and grew
No longer are they all alone, with Aloha as their new home
And when you visit them this is what they sing:
[Uku and Lele]

I have a dream I hope will come true

[Lele]

That you'll grow old with me (Uku: Ooooh...)

[Uku]

and I'll grow old with you (Lele: Aaahhh...)

[Both]

We thank the earth, sea, the sky, we thank too.
I lava you
I lava you
I lava you.
Production
James Ford Murphy had the inspiration for the short from Hawaii and its culture, where he had his honeymoon in 1989.[5] While on vacation at Hawaii in 2011, Murphy learned about the existence of Lo'ihi, an underwater volcano that is growing next to Big Island and that will eventually merge with it. He began reflecting on the fact Big Island is the merging of five volcanoes, and wondered whether the new volcano would know the presence of the others and vice versa, which inspired him to do a love story.[6] Murphy also cites his sister's marriage at the age of 43 as an inspiration for the theme of looking for love for a lifetime.[5]
Murphy learned to play ukulele, and eventually composed the song at the basis of and featured in the short, which was part of his original pitch.[7][8] An important inspiration for the music was Israel Kamakawiwo'ole's rendition of Somewhere Over The Rainbow.[9][10]
Murphy was interested in making a character that would also be a location. He said: "I thought it would be so cool to fall in love with a place who's also a character. I wanted to make Uku appealing and likable but also look like he's been carved out of lava flows."[1] On the technical side, the short was an exploration of large scale shots, which tend to be difficult for computers to process because of the amount of detail.[1] To give a sense of scale, cameras were set so that they would behave with the physics of a real helicopter. They incorporated a speedometer preventing them from going faster than 120 mph.[11]
The production team struggled with the fact that as volcanoes their characters are fixed and shouldn't be moving.[9] Supervising Animator Aaron Hartline mentioned that they found the sense of scale was lost if Uku's movements were too important, and as such his expressions had to be communicated mainly through his eyes and mouth, whose stretching had to be limited too.[12] Most of his face is non-movable, and the mouth and eyes are made of sliding pieces rather than squash and stretch.[11]The problem of immobility was also dealt with by varying camera angles and involving mobile elements like animals or clouds.[9] The cameras, editing and movements of the animals were inspired from the Hula.[11]
Uku's face is based on those of his voice actor Kuana Torres Kahele, Jackie Gleason, and the bulldog Marc Antony in Feed the Kitty.[9][8][11] In addition, Hartline indicated Uku is largely based on Israel Kamakawiwo'ole, as they wanted to convey the same impression of a "gentle giant."[12] At same time, the appearance of Uku and Lele is based on real geographical places. For instance, both take inspiration from Kaua'i, Na Pali Coast in particular. Lele's black hair is inspired from Kilauea, and the waterfall that unites them at the end is inspired from Papalaua Falls.[6]
Trivia
The names of Uku and Lele are an obvious pun on "ukulele". Kuana Torres Kahale noted "Uku" means "head lice" in Hawaiian Pidgin, and joked he hopes no one starts calling him "Uku" after the short is released, as "it would be kind of shame."[13]
The two turtles mating in this short might be a reference to the turtles from Finding Nemo.
This is the only Pixar short film with a song that has lyrics.
Gallery
References