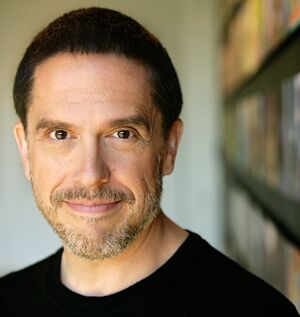 Lee Unkrich (born in Cleveland, Ohio, USA, August 8, 1967) was a director, editor, and voice actor at Pixar Animation Studios. He left the studio on February 15, 2019.[1]
Biography
Unkrich came to Pixar on a temporary assignment during the development of Toy Story. He was the director of Toy Story 3, for which he won an Academy Award, a Golden Globe, a BAFTA, and a Saturn for Best Animated Feature.  After Toy Story 3, Unkrich directed Coco, for which he won another Academy Award, another Golden Globe, another BAFTA, another Saturn, and an Annie Award for Best Animated Feature.
Unkrich also did additional voices for A Bug's Life, the voice of the Red Rocker in Toy Story 2 and the voice of the Jack-in-the-Box and the muffling sounds of the Monkey in Toy Story 3.
Personal Life
Unkrich has three children: Max, (b. 2004), Alice, (b. 1999), and Hannah, (b. 1996). He lives with them and his wife Laura in Kentfield, Marin County, California.
He is also a self-confessed fan of Apple Inc.. He often attends the Apple events which are held several times a year.
Filmography
External links
Gallery
References