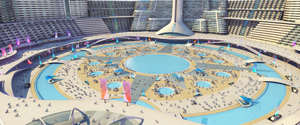 The Lido Deck is a location seen in WALL•E.
Normal
The Lido Deck is the main deck of the Axiom in WALL•E. It has a large domed celing displaying a sun or a moon (both having the Buy n Large symbols on them) at the appropriate times to give the effect of time like on earth. VEND-Rs and BRL-As can be seen working there. One THIRST-E is also seen there in the old Axiom commercial video. This place is also where GO-4 is accidentally destroyed near one of the swimming pools. The entrance to captain's headquarters can also be accessed from the Lido Deck. As seen from afar, the headquarters are shaped like a plant's pistil.
Holodetector
When the Holodetector button is pressed, all the deck shades go down, holo-screens deactivate, covers close over the pools and green pathway nodes appear, guiding the passengers to the lido deck. As this happens, oxygen helmets deploy over the passenger's heads, much to their suprise. However, Auto tilts the Axiom, and all the passengers fall out of their chairs and proceed to crush each other. 
Gallery
Community content is available under
CC-BY-SA
unless otherwise noted.