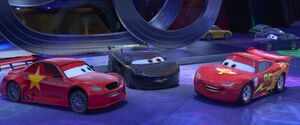 Long Ge is a character that appears in the Chinese version of Cars 2.[1]
The story of Lightning McQueen and Mater's journey around the globe of joy and thrill of espionage battle, so the two met a lot of friends from around the world, Ge is one of them. He is Lightning McQueen's friends in China, and his humble attitude, speed, such as dragon, also "World Cup" is one of the contestants. Ge the body spray of bright red symbol of China, and Venus, and freehand painted delicate peony pattern. His roof also used Chinese words "China" word.[2][3][4]
Trivia
Long replaces Jeff Gorvette the time of one scene in the Chinese version, which is part of a localization of the movie in several different countries.
Long has the same body as Max Schnell.
Long Ge in Chinese is 龙哥, the character Long or 龙 means "dragon". Dragon is a symbol of fortune and happiness in Chinese culture. It's also a symbol of China and Chinese race.
There are two Chinese characters 中国 on the top of Long's body, it means "China".
References