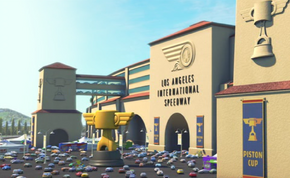 The
Los Angeles International Speedway
, in
California
, is where the tiebreaker race in
Piston Cup
history took place in
Cars
after
Lightning McQueen
,
Chick Hicks
and
The King
tied each other at the
Motor Speedway of the South
. Although Chick had won the race, his fans turned on him for cheating: he had deliberately caused The King to spin out in a horrible crash. There was an attendance of nearly 200,000 cars.
In Cars 3, Los Angeles International Speedway is where the final race of the 2017 Piston Cup season took place as seen in the beginning. By then, most of the veteran racers have been replaced by next-generation rookies, though a few are still present at the time. In the race, Lightning does well, but he is unable to get past Jackson Storm, who leads most of the time. Lightning manages to take the lead after a fast pit stop, only to be past by Jackson Storm again. Trying to catch up, Lightning decides to push himself, which leads to him sliding out of control and tumbling down the track. It would take four months for him to recover.
Trivia
Gallery
References