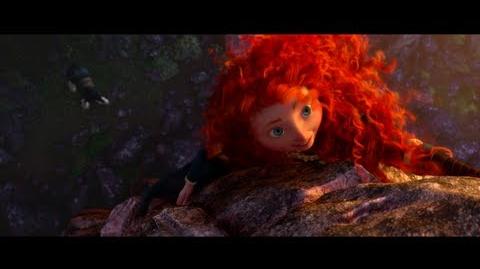 "Merida, our central character, she's a fiery, spirited lass, and her hair is very much part of her character and who she is."
—Brave producer Katherine Sarafian[1]
Princess Merida is the protagonist in the film Brave. She has three brothers Harris, Hubert and Hamish. Her parents are King Fergus and Queen Elinor. She is also the first female protagonist in a Pixar film.
Brave
Passionate, beautiful and fiery, Merida is a headstrong teenager of royal upbringing who is struggling to take control of her own destiny. She feels most at home in the outdoors honing her impressive athletic skills as an archer and swordfighter, and racing across the magnificent Highland countryside with her faithful horse, Angus. With a spirit as vibrant as her untamed hair, Merida also has a softness of heart, especially when it comes to her wee triplet brothers. As the daughter of the King and Queen, her life is weighted with responsibilities and expectations, causing her to yearn to preserve her freedom and independence. When Merida blatantly defies an ancient tradition, the consequences of her actions prove disastrous for the kingdom. She must race against time to make right the result of her reckless behavior, her journey compelling her to look inside to discover the meaning of bravery and reveal her true fate.[2]
Trivia
Merida has more than 1500 individually sculpted, curly red strands that generate about 111,700 total hairs.[3] Brenda Chapman insisted upon Merida having such curly hair, which was very difficult to create. Claudia Chung, the simulation superviser, said, "We've never seen anything like Merida's curly hair. Technically, that was incredibly hard to achieve." The simulation team had to create a new simulation program to achieve the needed movement, which they named "Taz", after the Tasmanian Devil Looney Tunes character because it was "crazy fast", as Chung said. The results were so pleasing that they used the program to create all the other hair in the film, from Angus's fur to the triplet's hairstyles. It took three years and left them only six months to finish the rest of their work on the film.[4]
If Merida's curls were straightened, her hair would be four feet long and reach the middle of her calf.[3]
With five dresses, plus a cloak, quiver, hand wrap and necklace, as well as torn dresses, Merida has a total of 22 different costumes. She also has five different hairstyles.[3]
Brenda Chapman came up with the concept of the Merida character as a combination of a daughter and a friend.[citation needed]
Reese Witherspoon was originally cast to voice Princess Merida, but was replaced due to scheduling issues.
Merida has the strangest preview cameo prior to her film's release of any Pixar character: she and her family were all first seen in public media in automobile form on a tapestry on the wall inside a bar in London, England seen at the end of Cars 2.
Merida joined the Disney Princess line-up on May 11, 2013, making her the 11th Disney Princess in the franchise, and the first ever Disney Princess to not come from the Disney Animated Canon.

When she initially joined the line-up, Merida was given a redesign that drew much controversy, with many critics stating the design made her "too girly", which is the polar opposite of her adventurous personality. Disney eventually re-redesigned her to be closer to how she appeared in the movie.

Tia Kratter, responsible for Merida's initial character design, has admitted that Merida took inspiration from British model and actress Lily Cole.[5]
Merida is the third Pixar Princess after Atta and Dot from A Bug's Life. However, she is the first human Pixar Princess.
Apparently, Merida and Young MacGuffin were going to be the "canon" couple, but then the filmmakers decided it would be better to leave her single.[citation needed]
Merida is the first flesh-and-blood Pixar meet-n-greet character in any of the Disney Parks.
Her name means "honorable" in Gaelic.[citation needed]
Merida has inherited her father's strength and her mother's spirit. She also shares with her brothers a taste for mischief.
Gallery
References