Michael Schumacher Ferrari is a character in Cars.
Cars
"With over 90 wins and seven championship titles to his name, Formula One racer Michael Schumacher is one of the most celebrated racecars ever. Born into humble origins, he grew up on the local short track his father maintained, and developed the skills he would need to become one of the most accomplished athletes in the world. Making his way up the ranks of the European road racing leagues, he went on to achieve a racing career so successful that his record will most likely never be surpassed. But when it comes down to it, there's nothing Michael loves more than spending time with his loving family."[1]
At the end of the film, Schumacher visits Luigi's Casa Della Tires with Antonio Veloce Eccellente and Costanzo Della Corsa to get some tires from Luigi and Guido, having heard from Lightning McQueen that they are the best tire sellers. However, Luigi faints from excitement of seeing a Ferrari in his store. Schumacher addresses himself to Guido, saying "I hope your friend recovers. They tell me you are fantastic." in Italian, which causes Guido to faint as well. In the mid-credits scene, Michael is seen in the crowd attending at the reopening of the Wheel Well Motel.
Cars 2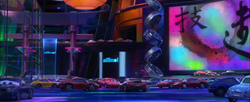 Many red Ferrari F430s similar to Michael Schumacher appear in Cars 2, but it remains unconfirmed if the character appears in the sequel. None of all these Ferraris seems to have eyes of the same color as Schumacher (his eyes are blue, while theirs are brown).
Trivia
Michael Schumacher has been released in the Cars Die-Cast Line.
He is voiced by and based on the real seven time world championship racer Michael Schumacher.
He is modeled after a 2004 Ferrari F430.
Die-casts
References
↑ "Cars Finder" (supplementary material on Blu Ray Disc release of Cars). 2007. Blu Ray Disc. Walt Disney Home Entertainment, 2007.
Community content is available under
CC-BY-SA
unless otherwise noted.