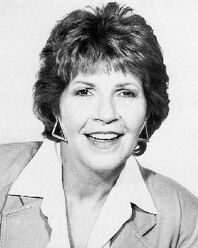 Mickie McGowan is an American casting director and voice actress who was a casting director at Pixar.
She has performed the voice of the Cockroach Waitress in A Bug's Life, Birthday Mom in Toy Story Downside Up, as well as in the video game. She also played Police Officer Edith in Up, and additional voices in Monsters, Inc., Finding Nemo, The Incredibles, Ratatouille, WALL•E, Tokyo Mater, Toy Story 3, Cars 2, Brave, Monsters University, Inside Out, Cars 3, Coco, Incredibles 2 and Toy Story 4. Prior to Pixar, voicing characters in the films such as The Little Mermaid, DuckTales: Treasure of the Lost Lamp, The Rescuers Down Under, Beauty and the Beast, An American Tail: Fievel Goes West, Aladdin, The Hunchback of Notre Dame, Hercules, Quest for Camelot, Mulan, Doug's 1st Movie, Tarzan, Iron Giant, The Emperor's New Groove, Spirited Away, Jimmy Neutron: Boy Genius, Lilo & Stitch, Treasure Planet, Brother Bear, Home on the Range, Ice Age: The Meltdown, and Surf's Up.
Community content is available under
CC-BY-SA
unless otherwise noted.