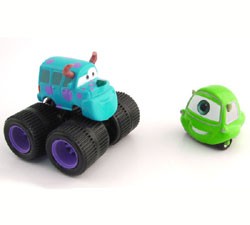 Monster Trucks, Inc. is a scene in the credits of Cars being shown at the Radiator Springs Drive-In Theatre. It is a film made with cars and trucks about Monsters, Inc. featuring Mike, Sulley and the Abominable Snowplow.
Plot
The car version of Mike yells to the truck version of Sulley, "We're banished, genius! Stuck out here in this wasteland without chains!" Leaving Sulley to reply, "But, Mike, the Boomobile's in trouble! She needs our help!" (Replacing "Boo" with "Boomobile") Mike then says, "You're still not listening!. The Abominable Snowplow then breaks in, saying, "Welcome to the Himalayas!" Snow cone?"
Then Mack, who was watching the movie, says, "Oh, that Abominable Snowplow is quite the comic thespian!" a nod to the fact they share the same voice actor, John Ratzenberger.
Trivia
The Boomobile is mentioned by Sulley, but is not seen.
Frank can be seen in the background watching the movie.
Billy Crystal and John Goodman reprised the roles of Mike and Sulley as a car and truck respectively.