Full credits for Monsters, Inc.
Directed By
Co-Directed By
Produced By
Executive Producers
Associate Producer
Original Story By
Screenplay By
Music By
Story Supervisor
Film Editor
Supervising Technical Director
Production Designers
Art Directors
Supervising Animators
Lighting Supervisor
Layout Supervisor
Shading Supervisor
Modeling Supervisor
Set Dressing Supervisor
Simulation & Effects Supervisors
Sound Designer
Production Supervisor
Casting By
Cast
Additional Story Material by
Story
Story Manager
Development Story Supervisor
Story Artists
Additional Storyboarding
Additional Screenplay Material by
Story Consultant
Script Coordinators
Story Coordinator
Story Production Assistants
Art
Art Department Manager
Character Design
Additional Character Design
CG Painters
Production Artists
Sculptors
Visual Development
Art Department Coordinators
Art Production Assistant
Layout
Layout Manager
Lead Layout Artist
Senior Layout Artist
Sequence Leads
Layout Artists
Layout Technical Support
Layout Department Coordinator
Set Dressing
Animation
Animation Manager
Directing Animators
Character Development
Animators
Fix Animator
Animation Dept. Coordinator
Animation Fixes & Deliveries
Animation Fix Coordinator
Animation Production Assistant
Editorial
Editorial Manager
Second Film Editors
Additional Editing
First Assistant Editor
Second Assistant Editors
Additional Editorial Assistants
Temp Music Editor
Temp Sound Editor
Editorial Coordinator
Editorial Production Assistants
Modeling
Modeling Manager
Lead Modeling Artists
Modeling Artists
Modeling Coordinator
Shading
Shading Manager
Lead Shading Artists
Shading Artists
Shading Coordinator
Modeling & Shading Fix Coordinator
Lighting
Lighting Manager
Directing Lighting Artists
Team Leads/Master Lighting Artists
Lighting Artists
Lighting Coordinator
Lighting Production Assistant
Simulation & Effects
Simulation & Effects Manager
Sequence Supervisors
Simulation & Effects Artists
Additional Effects Development
Simulation & Effects Coordinators
Simulation & Effects Production Assistant
Software Development
Software Engineers
Documentation & Support
Camera
Production
Information Systems
Post Production
Post Production Sound Services Provided by
A Division of Lucas Digital LTD., LCC, Marin County, California
Re-Recording Mixers
Supervising Sound Editor
Sound Effects Editors
ADR Editor
Foley Editor
Ass't Supervising Sound Editor
Sound Effects Assistant
Foley Artists
Foley Mixers
Mix Technician
Re-Recordist
Additional Voices
Music
"If I Didn't Have You"
Music and Lyrics by
Performed by
Produced by
Orchestra By
Music Recorded and Mixed By
Music Editor
Assistant Music Editor
Music Supervisors
Music Production Manager
Music Production Coordinator
Main Titles
Design & Animation Direction
Animation
Outtakes & Company Play
Co-Director
Co-Producer
Project Manager
Lead Technical Artist
Additional Support
End Title Design
Thanks to Everyone at Pixar Who Supported this Production
Production Babies
| | | | | |
| --- | --- | --- | --- | --- |
| Ahmi | Aleksander | Alex | Annika | Anthony |
| Camille | Chloe | Christopher | Claire | Claire Emily |
| Connor | Eli | Elza | Emilia | Emma |
| Emma Mei-li | Finn | Gemma | Hailey | Hannah |
| Hunter | Isaac | Jacey | Jacob | James |
| Jasper | Jonah | Jordan | Josiah | Klaire |
| Lena | Leonardo | Louise | Lucy | Madison |
| Mary | Maximillian | Michael | Olivia | Penelope |
| Phoebe | Pinky | Rebecca | Sage | Santiago |
| Sebastian | Tavia | | Zellie | Zoe |
Thanks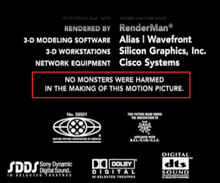 | | |
| --- | --- |
| Monsters, Inc. Books | CD-ROM Videogames |
| Available Wherever | Available From |
| Books are Sold | Disney Interactive |
Executive Monsters, Inc. Merchandise Now at
Disney Store, Disney Store Catalog &
www.disneystore.com
Copyright © MMI Disney Enterprises, Inc./Pixar Animation Studios
All Rights Reserved
This Motion Pictures was Created by Pixar Talking Pictures
For Purposed of Copyright Law in the United Kingdom.
Original Soundtrack Available from
Distributed by
Created and Produced at
Emeryville, California
Community content is available under
CC-BY-SA
unless otherwise noted.