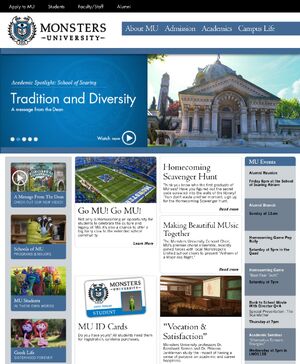 Monsters University is the titular location in the prequel of the same name.
About Monsters University
The university is an educational institute located in a less urban area of Monstropolis. One of its faculties, the School of Scaring, trains monsters to scare humans. Sulley and Mike attended the university when they were younger, but didn't get along very well at first; they later became best friends.
Monsters University was founded in 1313 by Arthur Clawson, following a land grant from the city of Monstropolis.[1] It celebrates its 700th anniversary.[2] It has six different schools of study: School of Scaring, School of Engineering, School of Liberal Arts & Monstrosities, School of Science, School of Business and School of Aquatics.[3] The School of Scaring has been ranked number one by the Monster News & Report for 143 consecutive years.[4] Graduates of the program typically find jobs with Monsters, Inc., Fear Co., or Scream Industries.[5] Monsters University has a storied rivalry with Fear Tech.[6]
Like Monsters, Inc., Monsters University's logo is an "M Eyeball."
From the Monsters University Fearbook: "Founded in 1313 by Arthur Clawson, Monsters University has been a leading center of scholarship, scientific innovation, and juvenile hijinks since it first opened its towering gates". 
Fraternities and Sororities
Important to the film's plot, the university has a Greek Life program, which includes six fraternities and six sororities. They compete in an annual event, the Scare Games.[7]
Fraternities
Sororities
Areas on the Campus
Trivia
Gallery
References
External Links
Community content is available under
CC-BY-SA
unless otherwise noted.