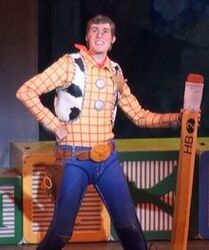 One Toy is a song from Toy Story: The Musical. It takes place when Woody overheard that Andy can only take one toy with him to Pizza Planet. In this song, Woody expresses his jealousy of Buzz and his plan to get Andy to himself.
Lyrics
Woody:
One toy and it won't be me Why him? Why here? Why can't he disappear? Why can't things be the way they were before? The norve, the nerve, this toy does not deserve To be the one that Andy favors more
The walls of Andy's room are adorned With rocket ships about to blast off And now I'm tossed aside and I'm scorned I'm just a washed up cowboy cast off If I could get the boy alone I bet he'd remember how I always make him smile I make him see a friend he's got in me And it would only take a little while
A shoo-down at the okay corral A little wild-wild west pretending  A sheriff and his favorite pal A Woody's round-up happy ending A couple of pals out on the town Just me and Andy there with no one else around But not anymore, he's letting me go I'm missing him more each day and cannot tell him so
One toy, and it could be me. A touch, that's all, a harmless little fall A temporary trip for Mr. Buzz. It's not as if he'd be falling off a cliff, And everything would be the way it was.
He really won't be gone for too long A little fall can't hurt him, can it? I won't be doing anything wrong. It's just a trip to Pizza Planet. One toy, and it will be me
Community content is available under
CC-BY-SA
unless otherwise noted.