Partysaurus Rex[2][3][1] will be the third episode in the Toy Story Toons series. It will be a Pixar Canada production.[3] The short has been rated G by the MPAA.[4]
Electronic artist BT, who composed music for the short, said about it: "I'm in the middle of scoring a film for Pixar right now. It's a short for Toy Story and I'm not allowed to say the whole story, but quite literally, it's like a Toy Story rave - and I'm actually not kidding either. The toys get into all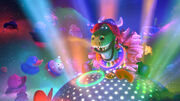 these shenanigans and it's like pounding club music. So it's really not very Pixar, but in a really hysterical way, everyone laughs really hard when they see it."
[5]
Disney has also announced a bath set called the "Partysaurus Boat" based on the short
Partysaurus Rex
, and that will be released near the holiday season.
[6]
[7]
The short will be released with the theatrical 3D release of
[[Finding Nemo|Finding
Nemo]]
.
[8]
Gallery
Trivia
On the first image, the toliet seat cover is blue with purple spots, similar to Sulley from Monsters, Inc.
References