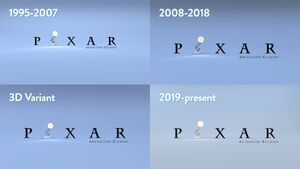 See also: Old Pixar Logo
The Pixar production logo is a sequence that appears at the beginning and end of most Pixar productions movies, and features a playful desk lamp. The 1986 short film Luxo, Jr. is the source of the small hopping desk lamp included in Pixar's logo.
In To Infinity and Beyond!: The Story of Pixar Animation Studios, a book of Pixar's history up through January 2007, film critic Leonard Maltin said that he "like[s] the fact that Luxo still has significance to the people at Pixar", and remarked that it was something like Disney's Mickey Mouse.
Sequence
Luxo Jr., without his cord, serves as the mascot for Pixar Animation Studios, appearing in its production logo before and after each film. He hops in from the right, stops next to the "I" in PIXAR, and jumps on it until he has completely squashed it down, as he did to the rubber ball in the short. He then looks around and angles his "head" toward the camera as the words "Animation Studios" appear bottom right of the logo. In the opening logos for the movie, the head fades in time with the light, while in the closing logos, all the light typically fades to black except for his head, which goes out with a click after a moment.
Variations
Trivia
References
↑ Lee Unkrich Twitter feed, September 5, 2017.
Community content is available under
CC-BY-SA
unless otherwise noted.