Doctor Strange in The Multiverse o Madness - The Loop
Play Sound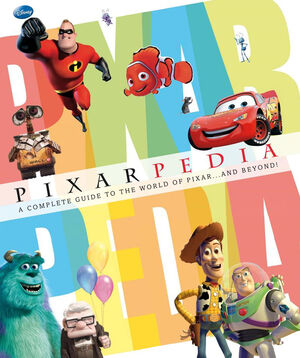 The Pixarpedia is an encyclopedia released by DK Publishing on August 31, 2009. It was written by Barbara Bazaldua, Steve Bynghall, Jo Casey, Glenn Dakin, Lucy Dowling, Laura Gilbert, Julia March, Catherine Saunders, and Victoria Taylor. It provides information about the movies and shorts made by Pixar before its publication date.
Movies and shorts
| NAME | STORY |
| --- | --- |
| Lightning McQueen | "Flashy, brash and supremely confident, rookie race car Lightning McQueen has a lot of drive. A real whiz on the track, he's determined to race to victory on his first attempt in the prestigious Piston Cup. Lightning loves all the attention and adulation that comes with being famous. He has his eyes on a new lucrative sponsorship deal with Dinoco, which would replace his current deal with second-rate rust removal ointment Rust-eze. For Lightning, this would mean more money, fans, free helicopter rides and even more fame. Ka-chow!" |
| Doc Hudson | "Doc Hudson is a well-respected vehicle in Radiator Springs. As the town's motor-medic, he'll sort out all the residents' health issues, and gives thorough checkups at his medical clinic. Very loyal to all his friends, Doc holds a lot of influence and has strong opinions on the sort of cars he wants in his town. He is even the town judge. However, with Doc Hudson ''MD'' doesn't just stand for Medical Doctor but also ''Moody'' and ''Deep''. Sometimes he can be a stubborn car of few words, but at other times he delivers very wise advice." |
| Mater | "Mater is completely unique. This buck-toothed tow truck bucks every trend and certainly does not tow the line. Although he is perhaps not the cleverest vehicle in Radiator Springs, Mater has a wicked sense of humor and an even bigger sense of fun. If you spend time with this tow truck you will soon find yourself hooked, whether he is scaring tractors, driving backwards at incredible speed or teasing Lightning McQueen about being keen on Sally. Very popular with the residents of Radiator Springs, Mater is always there to help his friends and pull them through any crisis." |
| Sally | "Brilliant and beautiful, sassy Sally runs the Cozy Cone Motel in Radiator Springs. The plucky Porsche uses her witty one-liners to hold her own against cars like Lightning McQueen, and always gives her all in whatever she does. Career girl Sally wasn't enjoying life in the fast lane as a Californian lawyer, so when she arrived in Radiator Springs she slowed things down. In love with the scenery of Ornament Valley, and caring deeply about the new friends she has made, Sally knows how to enjoy life. Her favourite way to relax is taking a leisurely drive along the mother road!" |
| Sheriff | "Driven by a strong sense of duty to protect the good citizens of Radiator Springs, Sheriff makes sure troublemakers steer clear of his town. Anyone who brreaks the law will be taken straight to Traffic Court, and Sheriff may even siphon their petrol so they can't escape! Straight-talking, hardworking and honest, Sheriff is from the no-nonsense school of policing, although he also has a much softer side. The fact that there is virtually no lawbreaking in Radiator Springs is proof of his success, although this might also be something to do with the fact that not much ever happens and no one ever visits!" |
| Luigi | "As proprietor of the Casa Della Tires tire shop, Luigi brings some Italian flair and passion to sleepy Radiator Springs. Loud, loyal, emotional and usually trying to broker a deal, Luigi loves life and anything Italian. He has even built his own Leaning Tower of Tires! Whether you need advice on a stylish set of tires, or just a friend to talk to, Luigi will never let you down." |
| Guido | "Italian forklift Guido assists his best friend Luigi in the Casa Della Tires. He is the quickest tire changer in the West, and just about everywhere else as well. Nimble and enthusiastic, Guido has a lifelong dream to change the tires on a real racing car, especially if it's a Ferrari. No wonder the only English words he says are ''Pit Stop!'' Guido è molto rapido!" |
| Fillmore | "Ageing hippie Fillmore's heart has never really left the 1960s. Operating on flower power as well as petrol, Fillmore thinks there should be more peace in the world. The only vehicle in town with tie-dye mud flaps and an interest in automotive yoga, Fillmore often spars with Sarge. Although they are very different cars, really the guys are similar in character and have a lot of affection for each other." |
| Sarge | "Ex-army jeep Sarge brings military discipline to Radiator Springs. Running Sarge's Surplus Hut, he supplies everything you could need to survive. Sarge has traditional views and disagrees with cars like Fillmore. When he opens his dream SUV Boot Camp it lets him introduce a tough regime to soft city types, and brings back a bit of respect to Ornament Valley!" |
| Ramone | "Not only does Ramone run his own House of Body Art, Radiator Springs' local custom paint shop, but he also makes sure he gives himself a new coat of paint several times a week. With his chrome undercarriage and his up-and-down hydraulics, Ramone has been the coolest car in Radiator Springs for many years, and is often seen out cruising on the main road with his wife, Flo." |
| Flo | "Flo is a classic show car from the 1950s. Sassy and sensible, Flo's been running the V8 Café and has been married to Ramone for as long as anybody can remember. Everyone thinks the town would fall apart without Flo. Not only would there be no one to sell petrol and oil, but also her fun-loving presence and big heart would be sorely missed. It is impossible not to fall for Flo!" |
| Lizzie | "Lizzie is Radiator Springs' most senior-citizen. As the widow of Stanley, the founder of the town, she's been around long enough to see the place rise and fall. Because Lizzie's young at heart, with a mischievous sense of humour, some of the other residents believe she's slightly unhinged. Often found taking a nap outside her curio shop, Lizzie sells Route 66 memorabilia and Radiator Springs bumper stickers. Not that anyone sticks around long enough to buy any..." |
| Red | "Red is Radiator Springs' only fire truck. However, he's also the town's most sensitive resident. Red gets hot and bothered far too easily and he's been known to retreat to his fire station when things get on top of him, which seems to be most of the time. Red might be shy, but he also has a lot of friends around town who feel very protective toward him." |
| Stanley | "Immortalised as a statue outside the fire station. Stanley founded Radiator Springs in 1909 on the site of a natural spring. He established it as a place where travellers on Route 66 could stop for a well-earned rest. Although he had to ask Lizzie out a few times before she actually said yes, the pair became inseparable and got married. These days everyone salutes Stanley, and Lizzie has happy memories of him." |
| Tractors | "Tractors plough through the day and sleep in the fields at night. Certainly not the brightest vehicles, they fall on their backs and make a curious sound when they have been startled. A field of tractors may be a classic American scene, but it is no joke when they leave the field and stampede through a town. You will need to either scare them away or get out of the way pretty quickly!" |
| Frank | "You definitely don't want to meet Frank when he's in a bad mood. By day he supervises the tractors and works through his own threshing and harvesting program. This might sound like a slow-paced, gentle country life, but Frank's been known to give chase to anybody who upsets him or the tractors. When his rotating blades are bearing down on you, it's probably time to make a run for it!" |
| The King | "Strip Weathers has certainly earned his nickname ''The King''. He is racing royalty and the ultimate driving legend. Easily the most successful race car of all time on the track, The King is also the perfect professional and gentleman off the track. Nobody has a bad word to say about him, so it is no wonder he's got a phenomenal fan following! Despite being such a high-flier, The King is also very down-to-earth; he is straight-talking and is not afraid to speak his mind. Now after many years at the top, The King has decided to retire, but he is determined to win the Piston Cup in his final racing season!" |
| Chick Hicks | "Dastardly, dislikeable and downright desperate to win the Piston Cup, Chick Hicks is the perpetual runner-up of racing. For every second of his career he has been second best to legendary driver The King, and now it is safe to say that he has got a chip on his bonnet. Not only is Chick obsessed with winning the Piston Cup after the umpteenth time of trying, but he also wants to land the Dinoco sponsorship once The King retires. The accompanying fame, money and glamorous lifestyle all fire up his engine!" |
| Mack | "Loyal truck Mack is Lightning McQueen's only true friend. He is responsible for transporting Lightning around from race to race in a luxury container crammed full of gadgets and trophies. Driving incredibly hard, often right through the night, Mack is a truck who never stops. He's also there to remind Lightning of his contractual obligations to sponsors Rust-eze and to keep an eye on things. At one point Mack acts as Lightning's entire pit crew! But despite all his efforts, Mack never gets any kudos." |
| Rusty & Dusty Rust-eze | "The founders of Rust-eze, Rusty and Dusty host the Rust-eze hospitality tent at races to promote their Medicated Bumper Ointment. Finding the slightest thing hysterically funny, the clapped-out comedy duo peddle their well-worn routines to audiences that are even older than their jokes. Lightning McQueen has to grin and bear it when the hopeless has-beens laugh at his car sticker headlights." |
| Tex | "As owner of the massive oil company Dinoco, Tex holds the keys to the hottest sponsorship deal in racing. He's on the lookout for a successor to Strip Weathers (The King), who is due to retire. Honest and honorable, Tex values loyalty and fair play above instant success. Nice guy Tex is passionate about racing and helicopter rides. He's also very generous and even lets Mater take a free ride in his helicopter." |
| Fred | "Starstruck and excitable, rusty racing fan Fred is in need of some repair. In fact, he gets so excited telling Lightning McQueen that he is a hero in the Rust-eze tent, that his bumper promptly falls off! However, what Fred lacks in appearance, he more than makes up for with enthusiasm. He is consistently amazed that famous faces from the racing world seem to know his name, although that might be something to do with the fact that ''Fred'' is written on his front license plate!" |
| Mia and Tia | "Mia and Tia are Lightning McQueen's biggest fans. The glamorous groupies cheer him on whenever they can. Straddling the fine line between very excitable and completely hysterical, the twins have been known to faint just seeing Lightning wink at them, and they regularly feature in Lightning's own daydreams. However, the followers prove to be fickle when they switch allegiance to Chick Hicks after Lightning McQueen goes missing in Radiator Springs." |
| Lynda Weathers | "Come rain or shine, you'll find Lynda Weathers out supporting her husband Strip (''The King'') as he storms to another win. The King knows that he's only a champion because he has a great team behind him, and Lynda is most definitely The Queen. Having such a strong bond also helps them keep the fast twists and turns of the racing world in perspective. As Lynda herself tells The King, ''Whatever happens, you're a winner to me, you ol' Daddy Rabbit.''" |
| Harv | "As Lightning McQueen's agent and self-styled friend, Harv's principal interests are making money and then making more money. Only ever available on the phone, and creaming off ten per cent of everything Lightning earns, Harv is not a car with high morals. His suave voice and choice of words might sound charming, but Harv doesn't care about his clients. He didn't even bother to watch Lightning's big race for the Piston Cup!" |
| Snot Rod | "Snot Rod is one of a gang of four import cars who love to cause trouble on the road. He can't stop sneezing and even sneezes fire out of his exhaust." |
| Boost | "Boost is the leader of the gang. He barks all the orders to Snot Rod, D.J. and Wingo to make sure they are causing as much mayhem on the road as possible." |
| D.J. | "D.J. is also in the gang. He has flashy speakers and lights. When he sees Mack about to nod off on the road, D.J. plays relaxing music to make him fall fast asleep!" |
| Wingo | "Wingo likes to admire himself and his brightly colored paintwork in the mirror. The only thing he loves more than making trouble with the gang is himself!" |
| Not Chuck | "This 2003 Nemomatic Forklift is one of Lightning McQueen's pit crew, until Lightning insults him and he decides to chuck in the towel. His name is most definitely Not Chuck!" |
| Dexter Hoover | "Dexter Hoover, a Pabloloco Compact pick-up, is one of the most important race officials. He waves the flags at the start and end of the race. You could say he has a checkered career!" |
| Bessie | "Bessie is a huge vehicle. Unfortunately Bessie doesn't ooze charm. Instead this enormous road-paving machine oozes steam, asphalt, and various foul smelling odours." |
| Jerry Recycled Batteries | "Jerry, a Peterbilt semi-hauler, is a truck who does a few deliveries at night. Normally he's a happy guy, but not when Lightning McQueen, driving without lights, mistakes him for Mack!" |
| Albert Hinkey | "Albert Hinkey is a massive motor home. He is Lightning's biggest fan - quite literally. Al is also known as ''Buffet Master'' since he can guzzle down a lot of petrol!" |
| Vroomaroundus Bugus | "These little bugs live in warm climates, like Ornament Valley. They can haul up to four times their own body weight but, unfortunately, have a short life span." |
| Barney Stormin | "Biplane Barney Stormin is a sky-writing plane. When leaving a trail of cloud to spell ''Piston Cup'' in huge letters, Barney makes sure what he writes looks right. Right?" |
| Al Oft | "Airship Al Oft floats in the sky above all Piston Cup races. Advertising Lightyear Tires, Al always gets a buzz from being able to watch the race from great heights. What a view!" |
| Mini & Van | "These two are minivans. The holiday couple drive into Radiator Springs for directions. Despite the residents' welcome, Mini and Van don't even stop to pick up a map!" |
| Kori Turbowitz | "Kori is the racing world's roving reporter and she is at the scene of every major breaking news story. When something is about to happen, Kori gets her wheels in motion." |
| Bob Cutlass | "Bob Cutlass and Darrell Cartrip are a much-loved commentating duo. Bob is a sleek and sophisticated sedan with a passion for all sports, especially the Piston Cup." |
| Darrell Cartrip | "Darrell Cartrip and Bob Cutlass are a real double act. While Bob is a more laidback commentator, Darrell is famous for his enthusiastic outpourings." |
| Brian: Park Motors | "Whether it be flags, antenna balls or other memorabilia, Brian has a gift for selling souvenirs around the racetrack. But this Park Motors P-150 Courier had dreams of launching a singing career!" |
| Chuck Manifold | "Chuck Manifold is one of TV's heavyweight news anchors. As a story unfolds, Manifold is always there to reveal the latest news with the appropriate authority." |
| Mario Andretti #11 | "Mario Andretti is a racing legend. A 1967 Ford Fairlane, he seems to have won just about every accolade you can think of over the years. A gentleman on and off the track, Andretti ensures the number eleven is never too far from the checkered flag!" |
| Winford Bradford Rutherford #64 | "Winford Bradford Rutherford is a Capitol Motors vehicle. His sponsor is RPM Nighttime Backfire Suppressant." |
| Sage VanDerSpin #80 | "Sage VanDerSpin is a Brawny Motor Co./Spark GT. His sponsor is Creme-filled Gask-its and he's the youngest winner of the Junior Piston Cup." |
| Claude Scruggs #52 | "Claude Scruggs is a Moroco. He has been with his sponsor, Leakless Adult Drip Pans, for over two decades!" |
| Greg Candyman #101 | "Greg Candyman is a Capitol Motors vehicle, sponsored by Tach-O-Mint. Each year fans compete to make a gingerbread model of him!" |
| Murray Clutchburn #92 | "Murray Clutchburn is a Stodgey/Suaver Ex, part of the Auto Games test track relay team. His sponsor is Sputter Stop, Cold Engine Relief." |
| Ryan Shields #39 | "Ryan Shields is a Crown/Celesta. He's one of the biggest advocates of View Zeen Corrective Windshields, who also sponsor him." |
| Lee Revkins #63 | "Lee Revkins is an Axxelo/Fission. His sponsor is Transberry Juice and he grew up on a farm where he learnt to drive." |
| Todd Marcus #123 | "Todd ''The Shockster'' Marcus is an Axxelo/Fission. The Shockster is sponsored by No Stall and he was born and raised in Dieselton, Alabama." |
| Billy Oilchanger #58 | "Billy Oilchanger is a Sherpa Motors Iota GT. Billy's sponsor is Octane Gain Turbo Vitamins and he wants to be a commentator when he retires." |
| Chuck Armstrong #33 | "An Axxelo/Fission, Chuck Armstrong suffers from slight allergies to certain fuels. His sponsor is Mood Springs." |
| Crusty Rotor #76 | "Crusty Rotor is a Stodgey/Suaver Ex. He is sponsored by Vinyl Toupee, Vinyl Top In A Can and he used to be a Vinyl Top salesman!" |
| Rusty Cornfuel #4 | "Rusty Cornfuel is a Brawny Motor Co./Spark GT. Sponsored by Tow Cap Hitch Protector. Rusty grew up on a farm in Mississippi." |
| Aiken Axler #28 | "Aiken Axler is a Lux Motors Co. Piston Cup V8. His sponsor is Nitroade Hi-Energy Drink and he likes to meditate." |
| Ernie Gearson #93 | "Ernie Gearson is a Moroco, known as ''Giddyup'' due to his 300 horsepower engine. His sponsor is Spare Mint Spare Tire Freshener." |
| Kevin Racingtire #35 | "Kevin Racingtire is a Capitol Motors vehicle. His sponsor is Shifty Drug Pharmaceutical Co., which is actually owned by his father-in-law!" |
| Floyd Mulvihill #70 | "Floyd Mulvihill is a Stodgey/Suaver Ex. He's known as ''Smoky Floyd'' because he likes to burn rubber. His sponsor is Gasprin Hood Ache." |
| Dave Altenators #84 | "Dave Altenators is a Crown/Celesta. His sponsor is Revolting Rebuilt Alternators, but Dave has never come higher than 20th in a race!" |
| Slider Petrolski #74 | "Slider Petrolski is a Capitol Motors car. He is named after his uncle Slide Powers, a famous dirt track racer. His sponsor is Sidewall Shine." |
| Brush Curber #56 | "Brush Curber is a Sherpa Motors/Iota GT. He is sponsored by Fiber Fuel, is a veteran of the circuit, and has fourteen children!" |
| Ralph Carlow #117 | "Ralphy Carlow is a Brawny Motor Co./Spark GT. His sponsor is Lil' Torquey Pistons and he is little brother to film star Jordon Carlow." |
| Dirkson D'Agostino #34 | "Dirkson D'Agostino is a Capitol Motors car. He used to work in graphics for a small racing outfit and his sponsor is Trunk Fresh." |
| Manny Flywheel #68 | "Manny Flywheel is a Crown/Celesta. He is sponsored by N20 Nitro, however, he cannot drink the product and still race legally." |
| Haul Inngas #79 | "Haul Inngas is a Brawny Motor Co./Spark GT. He came to America from Europe and is sponsored by Retread Roll-On Tire Deodorant." |
| Misti Motorkrass #73 | "Misti Motorkrass is a Crown/Celesta. Her sponsor is Rev-n-Go Carburetor and she's one of the few females in the racing circuit." |
| Eugene Carbureski #36 | "A Moroco, Eugene Carbureski started out prepping race cars at a local shop. He is sponsored by Tank Coat." |
| James Cleanair #61 | "James Cleanair is a Moroco. He's one of the oldest cars in the Piston Cup and is sponsored by Vitoline for older active cars." |
| Ruby Oaks #51 | "Ruby Oaks is a Crown/Celesta sponsored by Easy Idle - a warm start to a cold morning. Ruby is known as ''Easy'' due to his laid-back attitude." |
| Kevin Shiftright #121 | "Kevin Shiftright is an Axxelo/Fission, sponsored by Clutch Aid. Kevin's grandpa Kraig won two Piston Cups, and his dad, Klint, won three!" |
| Rotor Turbosky | "The luxury executive helicopter on Team Dinoco, Rotor is used to giving rides to racing's top cars. A Whirlybird Liftalot, he's even given Mater a lift!" |
| Gray | "Gray is The King's hauler, and has a name that does not match his colour. As an important member of Team Dinoco, Gray is, of course, decked out in light blue." |
| Dinoco Crew Chief | "Dinoco's crew chief is the most successful crew chief of all time and he supports The King, the best racing car of all time. You could say he's the power behind the glory." |
| Luke Pettlework | "The King likes to be surrounded by a steady team and Luke Pettlework has been with him for a number of years. Pettlework is a pitty who knows his pit stops and Piston Cups!" |
| Dinoco Girls | "The Dinoco Girls add a bit of glamour to the racing circuit. Dressed in Dinoco Blue with matching feathers, these girls are always cheering on The King!" |
| Chick's Crew Chief | "Chick's crew chief is a 200-and-a-half ton truck 5.7 L V-8. He's been loyal to Chick for a number of years, and knows how to handle his boss's bad moods!" |
| Chick's Hauler | "It's not that easy a job transporting Chick Hicks around. Not only does his hauler have to keep him happy, but he also has to somehow find room for Chick's massive ego." |
| Wide Chick Pitty | "As one of Chick's pitties, not only does Wide Chick have to wear a ridiculous looking moustache, but he also has to laugh very loud at all his boss's jokes." |
| Bruiser Bukowski | "Bruiser is part of Chick Hicks's team, and he lives up to his name! This Shystermatic, with the obligatory moustache, is Chick's longest serving pitty." |
| Trunk Fresh Crew Chief | "This Trunk Fresh crew chief is a bossy guy, but sometimes you've got to be to get results. Even Dirkson D'Agostino is a little scared of him." |
| Trunk Fresh Hauler | "Transporting Dirkson D'Agostino for Trunk Fresh has its ups and downs. Dirkson can be demanding, but at least he's hit it off with his hauler." |
| Trunk Fresh Pitty | "Being a Piston Cup pitty is really hard work. It's grimy, dirty and you run around a lot. That's why the Trunk Fresh pitty has a spray of Trunk Fresh before and after a race!" |
| Nitroade Hauler | "Shhhh! The Team Nitroade hauler is used to driving Aiken Axler around quietly so the race car can practice his Tai Rod meditation." |
| Nitroade Pitty | "In Team Nitroade, it's not just Aiken Axler who is fast. The Nitroade pitty's smooth and speedy pit stops go a long way towards making Aiken one of the fastest cars on the track." |
| Spare Mint Crew Chief | "The Spare Mint crew chief always stays cool under pressure. He's guaranteed to have driver Ernie Gearson feeling fully freshened up before each race." |
| Leakless Hauler | "The Leakless hauler is a real team veteran, but no, he doesn't need Leakless Adult Drip Pans quite yet!" |
| Stacy | "Stacy is the pitty on the Leakless team. She's powered by both propane and a strong desire to see Team Leakless do well in each race, so she makes those pits stop quick!" |
| Mood Springs Pitty | "Being the pitty for the Mood Springs team isn't the most pleasant job. Their racing car, Chuck Armstrong, often smells bad, but the pitty is too timid to tell him!" |
| Rev N Go Pitty | "Being the pitty for Team Rev N Go is one of the most sought after pitty jobs because you get to spend a lot of time with the glamorous Misti Motorkrass." |
| N20 Pitty | "Not only does the pitty for the N20 Nitro team always keep an eye on junior driver Manny Flywheel, but he also sips a little N20 after each race to help him wind down!" |
| No Stall Crew Chief | "The No Stall crew chief doesn't waste any time. This Haulital Lugnutter gives his instructions to Todd Marcus - there'll be no stalling whilst he's around!" |
| No Stall Hauler | "The No Stall hauler knows the route to Dieselton, AL very well. He's always having to take homesick Todd Marcus back to visit his folks!" |
| RPM Crew Chief | "The RPM team's crew chief works closely with Winford Rutherford. It's quite an advantage to have a driver who is an expert in physics." |
| Petrol Pulaski | "Petrol Pulaski, a 2003 Nemomatic Propane-Powered/Forklift, is a pitty for the RPM team. He has a good understanding with the driver and team. And Pulaski knows his petrol!" |
| RPM Hauler | "The RPM hauler gets on with Winford Rutherford, known as the ''Professor''. The two have highly intellectual conversations." |
| Octane Gain Hauler | "The Team Octane Gain hauler never tires of his job. He doesn't mind hauling Billy Oilchanger again and again from race to race." |
| Octane Gain Pitty | "The pitty for Team Octane Gain definitely knows how to gain a second or two by making a perfect pit stop. This forklift's an integral part of the team's success." |
| Jerry Drivechain | "Jerry Drivechain is a pitty for Team Tank Coat. Like many of the other pitties, he's a 2003 Nemomatic forklift. He enjoys his job because it gives himn a lift!" |
| Shiny Wax Crew Chief | "It takes a bright crew chief to keep Team Shiny Wax shining. This no-nonsense guy makes sure everything is right on track on the track!" |
| Shiny Wax Hauler | "Shiny Wax race car Darren Leadfoot is quite a heavy guy. Luckily, his hauler is even heavier so it's never a problem!" |
| Easy Idle Pitty | "Being the pitty for the Easy Idle team isn't as easy as it sounds, and there's certainly no opportunity to be idle. Luckily, this team's pitty always works as fast as he can." |
| Vitoline Pitty | "Being the pitty for Team Vitoline is a really nice job. The driver James Cleanair has been around for a while and always treats his pit team very well." |
| No Stall Pitty | "A loyal and hard-working member of the team, the No Stall pitty has perfected the art of the tip top pit stop. There's no time-wasting with this pitty about!" |
| Leakless Crew Chief, Shiny Wax Pitty and Spare Mint Pitty | "The Leakless crew chief expects nothing less than perfection from his team, and is one of the best around. The Shiny Wax pitty is a shining star when it comes to pit stops. Team Spare Mint picked their pitty because they could see he was the perfect pit-stop practitioner." |
| Charlie Checker | "As the official pace car of the Piston Cup, Charlie Checker can tell everyone he's been in the lead in a world-class race. This 2004 Capitol Motors vehicle takes his job very seriously!" |
| Tom | "Tom, a Remirunabout Orbit, is a race official. He's there to make sure everything is above board and all rules are kept to. And that's official!" |
| Tow | "Tow, a Houslital Crew Cab, is the official tow truck for the Piston Cup. He's the guy who has to remove any crashed cars from the track. Time to pick up the pieces!" |
| Marco Axelbender | "As a security guy at the LA International Speedway, Marco makes sure that there's no trouble for any of the race cars. Shame he can't arrest Chick Hicks for being a scoundrel!" |
| Badge #153 ''Axle'' Accelerator | "Police car Axle carries badge #153 and responsibility for maintaining law and order. When he helps with race security, Axle accelerates to be first on the scene!" |
| Marlon ''Clutches'' McKay | "Long-serving Marlon McKay works security at the LA International Speedway, so if you're a misbehaving paparazzo or an overexcited fan - watch out!" |
| Bernie Banks | "Bernie is always banking on the next photo to earn his living. Specialising in action shots from the Piston Cup, he's always trying to put himself in the frame." |
| Artie | "Artie, a Roymac Lugger, calls the shots in the media center. As Broadcast Director, he ensures he has all angles covered for the Racing Sports Network." |
| Chuck ''Choke'' Cables | "Chuck, a Pabloloco Lugnutter, is a crack cameraman for RSN, the Racing Sports Network. Chuck's great reflexes mean he never misses any of the racing action!" |
| Dan Sclarkenberg | "A heavyweight news anchor, Dan covers all the Braking News on the 55 Mph TV news. No topic is off-limits for Dan and co.!" |
| Bert | "As a photographer covering the world of racing, life can be a bit of a blur for Bert. This Ducham Futuro is always aware of the latest developments amongst the racers." |
| Matti | "Matti, a 1992 Delbert Advocate, is Kori Turbowitz's producer. Wherever you find Kori, you'll find the slightly less glamorous but very dedicated Matti somewhere in tow." |
| Houser Boon | "Houser Boon is a press pack photographer. He's used to asking the racing stars to pose for shots, something which the likes of Lightning McQueen are more than happy to do!" |
| Cora Copper | "Roving reporter and part-time paparazzi member, Cora likes to get to the bottom of a story. When this Axxelo Rapido SI is on the trail, she gets rapid results! |
| Ron Hover | "As a helicopter and correspondent for CRSN (Cable Racing Sports Network), Ron's career has really taken off. A high-flier, he covers all the major Piston Cup races." |
| Tim Rimmer | "Tim is one of the less likeable members of the press and has quite a negative image. This Axxelo will do anything to get the right photo. Well, virtually anything..." |
| Skip Ricter | "Sophisticated reporter Skip remains level-headed on camera. Even at the Piston Cup when excitement levels go off the scale, you can rely on Ricter not to skip a beat" |
| Chuki | "Chuki, a 2006 Microcaster Chickmonk, is a TV reporter for OEM news, a programme on Japanese television. Even she reports on the missing Lightning McQueen!" |
| "Dash" Boardman | "Celebrity snapper ''Dash'' Boardman is a member of the paparazzi who's always dashing to take a photo. This Crown Median TL always stays focused to get the perfect picture!" |
| Studs McGirdle | "RSN (Racing Sports Network) cameraman McGirdle is a Clebert Animatic. With this steady guy around, there are no shaky pictures." |
| Hooman | "Another of the press pack, Hooman is always revving up to chase a big story. As this Hollismobile Mertz says when he makes a mistake, ''I'm only Hooman''." |
| Oliver Lightload | "As a Luxoliner semi-hauler, he is designed to make long-haul deliveries. But he's not really a trucker, he just likes being at his favourite rest stop. |
| Gil | "Gil is a Peterbilt semi-hauler who loves to deliver. He's got a way with words and loves to chat. In fact, you could say he's an articulate truck!" |
| Chet Boxkaar | "Chet is a very long truck who makes very long journeys - but this reliable guy doesn't take long to deliver!" |
| Ben Crankleshaft | "Ben Crankleshaft, a Northernstar semi-hauler, often settles down for the night at the Top Down Truck Stop. Let's hope that's not him snoring!" |
| Paul Valdez | "Paul Valdez is a Northernstar semi-hauler. Delivering is definitely thirsty work, and Paul always likes to take a good slurp at a can of oil to cool down his engine." |
| Marilyn | "On the spur of the moment, ABL Princess Marilyn stops off at Ramone's House of Body Art for a totally new look - purple with flames!" |
| Timothy Timezone | "Timothy Timezone is an Emerycraft. He's a bounty hunter, famous for apprehending the notorious Gasket Gang." |
| Mildred Bylane | "Mildred, a Holliswood Driftwood, lived in Radiator Springs when it was a busy, bustling place. Red had a soft spot for her and was sad when she had to leave." |
| Edwin Kranks | "Edwin, a 1944 Piedmont Hauser, liked to crank up the style in old Radiator Springs with his apple green paint. He was a big hit with the girls!" |
| Dustin Mellows | "As a delivery truck from the 1950s, Mellows would often drive through Radiator Springs. The "TS" on the van stands for "Trophy Sparkplugs". |
| Greta | "A flame job from Ramone's, the V8 Café... a few years back they were happy days for cars like Greta, a Bruchmann Salmon Super Sport." |
| Hank "Halloween" Murphy | "Hank, a Hollismobile Rumbler, is not haunted by his early rebellious years. He used to be up to all sorts of mischief in Radiator Springs..." |
| Valerie Veate | "Valerie, a 2002 Cotswell Senator, is one of Radiator Springs' newest residents. It's a real feat that cars like Veate are finding their feet in the town again!" |
| Nick Stickers | "With a name like Nick Stickers, it's no surprise that this car loves bumper stickers. After a visit to Lizzie's shop, Nick emerges well-covered!" |
| Derek "Decals" Dobbs | "This Hollismobile Rumbler has an artistic streak. Derek drew the mural which declares Radiator Springs "A Happy Place"." |
| Percy Hanbrakes | "A 1944 Emerycraft, Percy always looked smooth and well-turned out visiting Radiator Springs. when it was a place with a bit more drive." |
| Milton Calypeer | "Another resident from Radiator Springs of yesteryear, Milton is a Wale Motors Sunday Driver 1200. He drove around on Sundays just for the sake of it." |
| Miles | "In the old days there was nobody more reliable than Miles. This Emerycraft delivery truck was responsible for most of the deliveries in Ornament Valley." |
| The Convoy Brothers | "Fanatics of racing and The King, the Convoy Brothers always come as a foursome when watching a race." |
| Milo | "Milo, a 1985 Emerycraft, isn't into grinning much as the tension racks up in the Piston Cup. He definitely won't be known as Smiling Milo with that expression!" |
| Johnny & Jamie | "Pranksters Johnny and Jamie should know better. They climb up on the exterior wall of the stadium for a joke. It's a long way down so hopefully they left their handbrakes on!" |
| Wilmar Flattz | "Wilmar Flattz is an enormous Lightning McQueen fan and he'll fly the flag for him. The support of guys like this 2000 Clebert Sniffler is certainly not to be sniffed at!" |
| Barry Diesel | "Barry Diesel, a 1975 Silverliner coach, sure likes to slurp away at oil, particularly if it's made by Dinoco. He's even worked out a way so he can have two barrels on the go at once!" |
| Polly Puddlejumper | "An Emerycraft, petite Polly Puddlejumper has a crush on Strip Weathers, and is painted in Dinoco Blue. She'll be jumping in a few puddles if she sees The King win!" |
| Bud | "Bud's a Luckeyliner Gentleman. In some respects he is also quite a lucky gentleman, as he's been coming to watch the Piston Cup for a long, long time!" |
| Vern | "Vern, an Emerycraft, runs his own taxi service where he guides cars from A to B. Hopefully he won't have to guide any of the race cars round the track..." |
| Benny Brakedrum | "Benny Brakedrum, a pink Clebert Scooner, has a front row seat to the tie-breaker race in California. You can't beat that for excitement!" |
| Coriander Widetrack | "A Capital Motors car, Coriander Widetrack spends more of her time looking into the sky than at the race track - she's fascinated by all the jet planes." |
| Syd VanDerKamper | "Syd VanDerKamper is a keen follower of the Piston Cup - quite literally. He travels miles cross-country each year to watch the action at his favourite Piston Cup races." |
| Marty Brakeburst | "Marty is a Remirunabout Neuro. He worries about the slightest thing, like when his brakes are going to burst! Perhaps watching the high tension of the Piston Cup isn't a good idea." |
In the sleepy town of Radiator Springs, everyone bears the brunt of Mater's practical jokes. When he's not pulling the flowers that Red is watering from under him, he's scaring Sally by appearing as a traffic cone vampire in her office window. Mater finds it very funny, but nobody else is laughing. Finally the Sheriff, along with the rest of the town, sets out to teach him a lesson. Sheriff recounts the chilling tale of the Ghostlight. the town ghost, who hates the sound of clanking metal. The story makes Mater's metal rattle, and when everyone departs he is left trembling and alone. Driving home, Mater gets the fright of his life when a bright blue glow appears behind him! Guido and Lightning McQueen have hung a lantern from his tow cable. When the joke is revealed, Sheriff points out to Mater that the only thing to be afraid of in Radiator Springs is your imagination - and the Screamin' Banshee...
Stu is a teenage alien taking his important abduction examination under the very watchful eye of Mr B. But abducting humans is no easy task, especially when it involves remembering what each of the spaceship's thousands of buttons actually do. Under Mr B's scrutiny, Stu manages to send the abductee flying - just not into the spaceship! After some more failed attempts Mr B finally takes pity on Stu and lets him have the controls. But Stu lands the ship on the abductee's house and demolishes it! Stu and the spaceship make a quick getaway, leaving the abductee to face quite a shock in the morning when he wakes up with only his bed still intact on a pillar of earth.
| NAME | STORY |
| --- | --- |
| Remy | "Remy has a problem. He's a rat who hates eating rubbish, loves good food and longs to be a chef. His dad doesn't understand his goals and makes Remy use his remarkable sense of smell and taste as a poison-checker for the rat colony. But every chance he gets, Remy sneaks into a nearby cottage to watch Auguste Gusteau's cooking show or read his cookbook. ''I know I'm supposed to hate humans,'' he says. ''But they don't just survive. They discover. They create'' Can Remy find his dream without losing his family?" |
| Linguini | "Lanky Linguini looks like a walking disaster waiting to happen. When he knocks over the soup pot in Gusteau's kitchen, it's the luckiest accident he ever had, but he only sees another failure. ''I need this job. I've lost so many.'' he tells Remy. Basically good-hearted, sincere and kind, Linguini is also clever enough to hatch a plan to save his job and let Remy cook. As the odd couple work together, they learn about trust and forgiveness. Linguini also gains self-confidence, and a five-star friendship is forged." |
| Colette | "The only female chef in the kitchen, Colette has had to work twice as hard to succeed in the male-dominated world of ''haute cuisine''. It has made her tough, and also bold, confident and fair. She is proud of her skills but isn't jealous of garbage-boy-turned-chef Linguini's success. Although she is rough on Linguini at first, she comes to believe in him, and begins to care about him. However, when Colette learns Linguini's secret she feels betrayed, until she recalls Gusteau's words, ''anyone can cook''. Recognizing Remy's abilities, Colette puts her own ego on the back burner - and takes orders from a rat." |
| Skinner | "Snarly, sneaky, snooty Chef Skinner was once Auguste Gusteau's sous chef, but now he is the head chef and the boss. So short he has to stand on a stool to reach the cooker top, Skinner makes himself feel bigger by being rude - especially to Linguini. ''Welcome - to hell,'' he tells him. When Skinner glimpses Remy, he is sure Linguini is using the rat to play games with his mind. But the more Chef Skinner turns up the heat on Linguini, the hotter he makes things for himself and at last, his devious plans backfire. He should have stuck to cooking instead of stirring up trouble." |
| Gusteau | "Remy's hero, Auguste Gusteau, was once considered the best chef in Paris. Then, a scathing review of his restaurant, Gusteau's, by food critic Anton Ego cost him one of his five stars - and broke his heart. But Gusteau's optimism and positive attitude live on. Hearty, friendly and down-to-earth, Gusteau took the haughtiness out of ''haute cuisine''. He believed creativity could come from anyone, anywhere. ''You must not let anyone define your limits because of where you come from,'' Gusteau said on his television show. ''Anyone can cook, but only the fearless can be great.''" |
| Anton Ego | "Arrogant Anton Ego relishes dishing out vicious culinary criticism. He hates Gusteau's philosophy. ''I take cooking seriously,'' Ego says. ''And no, I don't think anyone can do it.'' But when the sarcastic snob visits Gusteau's, Remy turns the tables with a simple dish called ''ratatouille.'' To everyone's surprise - including his own - Ego loves it. When he discovers who made it, he finally understands what Gusteau meant. ''Not everyone can be a great artist, but a great artist can come from everywhere,'' Ego writes. A humbled and happier Ego has changed from sarcastic snob to fan - and friend." |
| Django | "Remy's gruff, critical dad, Django sees no problem with the way rats live or what they eat. To him, taking food isn't stealing if nobody wants it. The colony's leader, Django keeps the pack together and safe from their greatest enemy - humans. He just can't understand why Remy won't accept his own rattiness." |
| Emile | "Remy's big brother Emile is a picky eater. Anything he picks up, he eats. Emile's happy to gobble garbage and doesn't get Remy's attitude toward food. However, the loyal, lovable rat accepts Remy and goes along with his weird ideas - even when they're dangerous. The good-natured slob may not be too bright, but Emile has one thing right - family matters." |
| Mabel | "Let sleeping old ladies lie. That's what Remy learns when he accidentally awakens Mabel from her nap in front of the TV. Mabel is the owner of the cottage where Remy and his rat colony live. She may look doddery and decrepit in her buggy-eyed glasses, frumpy hair net and slippers, but Mabel morphs into a one-woman army when she sees Remy and Emile. Determined to get them, she shoots down her own ceiling, then slaps on a World War I gas mask and blasts the fleeing rats from a bridge. It's a good thing Mabel's eyesight isn't very sharp. But the senior shootist isn't letting a little thing like that stop her. Ka-POW!" |
| Talon | "Chef Skinner's suave, impeccably dressed lawyer, Talon Labarthe stays calm and cool when Chef Skinner tells him about the letter from Linguini's mother claiming the boy is Gusteau's son. If it is true, then Skinner loses the restaurant. But conniving Talon isn't worried. Plucking a hair from Linguini's chef's hat to run a DNA test, he advises Chef Skinner not to worry. All he has to do is wait for the will's deadline to run out. ''Then you can fire the boy and no one will ever know,'' Talon says, ruthlessly. Like a rat with a business suit and briefcase, the sly lawyer sees no problem in cheating Linguini from what is rightfully his. But he does worry about Chef Skinner's rodent obsession. ''Is the rat important?'' he asks. ''Should I be concerned about this - about you?''" |
| François Dupuis | "One look at his loud jacket and it's easy to see that François's taste is ''all in his mouth''. The advertising agency guru brings his talent for tackiness to Chef Skinner's line of Gusteau's Frozen Food. ''Easy to cook, easy to eat - Gusteau makes Chinese food - Chine-easy!'' François exclaims as he reveals a cardboard cutout of Gusteau in a Chinese outfit. He would probably sell his own grandmother if he could come up with a good slogan. He reaches new lows in corny ideas when Chef Skinner asks him to think of a way to sell Gusteau's Corn Puppies. ''An ear of corn in doggy make-up,'' François suggests. Even unscrupulous Chef Skinner finds that idea hard to swallow." |
| Mustafa | "The head waiter at Gusteau's, plump Mustafa looks like he knows all about good food! But he just serves it, he doesn't make it. So when things go wrong in the kitchen, Mustafa gets caught between hot-under-the-collar customers and even hotter chefs. He is delighted when Linguini's (Remy's) recipes catch on, but he is frozen in terror when Anton Ego snarls, ''Serve me some fresh perspective.'' That's not on the menu. What wine goes with that?" |
| Horst | "As the sous-chef, Horst is second-in-command to Chef Skinner. With his huge forehead, stiff crew cut and glaring eyes, it is easy to believe that Horst has a mysterious, criminal past. According to Colette, he has ''done time, but he changes his story every time you ask him.'' Has he really defrauded a big corporation, robbed the largest bank in France with only a ballpoint pen, created a hole in the ozone and killed a man using only his thumb? Or is he making it up to seem tough? One thing is certain, he has no problem tossing Chef Skinner out the door." |
| Pompidou | "As pâtissier, Pompidou's specially is making delicate, delicious deserts. Pleasant and quiet, Pompidou mostly just watches the action in the kitchen and doesn't say much. Perhaps he prefers to express himself with frosting and whipped cream. A compulsive gambler, Pompidou has been banned from all the casinos in Las Vegas and Monte Carlo. Nowadays, the only kind of dough he is allowed to play with is the kind that goes in an oven to be baked!" |
| Lalo | "''We are pirates, artists...'' Colette tells Linguini, and she's right. Take Lalo. He ran away from home at twelve years old and joined a family of acrobats. But when he clowned around with the ringmaster's daughter, his circus job took a tumble. Now he does a fabulous act at the cooker - perfectly balancing spices and herbs in delicious sauces. But supersttious Lalo worries about bringing bad ''ju-ju'' into the kitchen. And a rat just has to be the worst luck ever! When he sees Remy, Lalo is gone faster than you can say ''cream sauce''. |
| Larousse | "Tough Larousse once ran guns for the resistance. He won't say which resistance because apparently he was on the losing side. These days the only thing Larousse runs is his kitchen workstation. Larousse looks gruff, but he sticks up or Linguini and seems delighted to see Chef Skinner finally go. He even lights the fire under Skinner's cheap frozen entrées and tacky signs. But like the others, Larousse just can't imagine working with Remy. After all, they've only just got rid of one rat in the kitchen - Chef Skinner." |
| Sewer Colony | "When Remy goes to see the colony in Paris, Django is thrilled. ''My son has returned!'' he exclaims to the cheering rats. However, Remy serves up some unwelcome news - he is just visiting. It's great seeing everyone, but his heart is not in the back alleys of Paris now." |
| Rat Musicians | "Rats rock! Remy's visit to the colony inspires a party, complete with a cool combo playing a pencil bass, paperclip harmonica, rubber band accordion, lid drum with matchstick drumsticks and salt shaker maraca." |
| Dishwasher Man | "Ego is glaring in the dining room, Remy's gone, Linguni's lost it and the chefs are nervous wrecks. Even the dishwasher is so rattled, he is dropping pots and pans everywhere except the sink. Everyone's in hot water now." |
| Demi Chef de Partie | "As Remy and Gusteau peer through the skylight into the kitchen, Remy correctly identifies the roles and skills of each cook on the team, like the demi chef de partie who's seasoning sauces. He also helps the patissier with pastries." |
| Commis Chef | "In a gourmet kitchen, everyone has a job and every job counts. Pointing out the different chefs to Gusteau, Remy mentions ''commis chefs'' and says these apprentices are an important part of the team. As Remy and Gusteau watch, Chef Skinner scolds this poor fellow. He's probably new, with a lot to learn." |
| Health Inspector | "After Chef Skinner's call, the Health Inspector visits Gusteau's to check on the ''rat infestation''. Although the rats rope, tie and toss him in the cooler to ''chill out'' while they cook, he rats them out in the end, and Gusteau's is closed for good." |
| Waiter | "A good waiter is the link between the diners and the kitchen - the point where the food meets the fork. This waiter is a pro. He knows how to stay cool, calm and collected and keep the customers content. But with the changes about to heat up in the kitchen, he's soon going to feel his world tipping like an unbalanced tray." |
| Greengrocer | "As Colette teaches Linguini a chef's secrets, she tells him how to get the best produce by getting the first pick of the day. That means growing it yourself or bribing a grower, like the one outside who's pocketing up some extra green stuff in exchange for his greens." |
| Ego's Mother | "It is hard to believe that Anton Ego was ever a child or had a mother. But food has charms to warm the coldest critic. One bite of Remy's ratatouille, and Ego remembers a childhood summer day when his mother's ratatouille made him feel loved and comforted." |
| Ambrister | "Poor Ambrister. As Anton Ego's butler he has to be the bearer of bad tidings. Creeping cautiously down the red carpet in Ego's immense study, Ambrister can barely work up the courage to tell his furious boss that not only Gusteau's restaurant NOT closing, it has actually become - popular!" |
| Diners at Gusteau's | "When the customers want to try something new, Chef Skinner tells Linguini to prepare a terrible dish, hoping for disaster. But with help from Remy, the recipe is a triumph. Special orders flood the kitchen as happy diners demand the dish and Chef Skinner stews." |
| Diners at La Ratatouille | "Bon appétit! Gusteau's restaurant has closed, but fine food lives on in a charming café run by Colette, Linguini and Remy. Their best patron is Anton Ego who has finally learned to savour the flavour - of life!" |
| Press | "Hold the front page! In Paris, food makers headlines, so reporters are eager to interview Linguini about his sudden rise to fame. But they get an even bigger scoop when Anton Ego stalks into the room and challenges Linguini. The news just went from hot to sizzling!" |
| Solene LeClaire | "At the back of the restaurant, food critic Solene LeClaire sips Remy's soup and declares it a ''revelation'' in her review. When Chef Skinner tells Linguini he has to repeat the recipe, the befuddled bumbler has no idea what to do. He's in a hot spot now!" |
| Boat Couple | "Love is blind! As Skinner chases Remy, trying to snatch the documents, he leaps for a boat, misses, and makes a splash landing. But the pair on board don't even blink. They only have eyes for each other." |
| Fighting Couple | "As he follows his nose for food, Remy has no idea where he is. Glimpses of people in the windows he passes - like a couple passionately fighting and making up - should give him a clue. He is in Paris, a city famous for its fine cuisine - and romance." |
| Man on Bike | "After leaving the rat colony, Remy spends a dampish night in the drains of Paris. But his spirits rise with the sun. As he trots to Gusteau's, Remy greets a standard cyclist who crashes into a parked car. After all, seeing a rat who looks like he is trying to talk is ''wheely, wheely'' weird." |
| Mime Artist | "As Colette and Linguini rollerskate arm and arm down a Paris street, they pass a typical street scene - a pantomime artist in traditional costume silently entertaining watching children. They don't notice Chef Skinner sitting on a bench nearby, sneakily peeking from behind his newspaper as they roll past." |
Remy, with the help of his somehwat reluctant brother Emile (who is more interesed in food than humans), speaks on behalf of oppressed rats everywhere. He presents a history of brown rats in an attempt to shatter the terrible myths that have given rats such a bad reputation. Remy points out that humans have not always detested rats. In fact, there was a time when humans considered rats to be sacred. After dispelling some popular myths about rats, such as revealing that the Black Death was not caused by rats (it was fleas!), Remy and Emile are determined to explain just how cool rats are. Remy leaves the audience with the final comforting thought that humans and rats are not actually that different, as they share a similar biology. Humans had better make friends with rats, as they are going to be around for a very long time!
Presto is a wonderful magician who thrives on fame and fortune. But when he neglects to feed a carrot to his hungry bunny, Alec Azam, before his amazing show, he quickly finds that he isn't the only one who has a few tricks up his sleeve! Performing on stage in front of his audience, Presto expects to pull Alec the bunny out of the hat. However, with Alec behind the scenes, Presto is in for some nasty surprises, and he ends up with egg on his face - literally! Things soon go too far when Presto's life is at risk. Luckily for him, Alec the bunny saves him with his very own hat trick! The audience goes wild and Alec becomes a part of the act, too. Soon, he is receiving not one carrot, but a whole bunch of them!
NAME
STORY
WALL•E
"WALL•E is rusty but reliable. Despite being the only functioning robot left on Earth, he continues to work hard. Collecting, sorting and cubing rubbish might not be everyone's idea of the perfect job, but WALL•E is content, just as long as he has enough sunlight to re-charge his battery and some cheerful music while he works. However, an amazing discovery and an unexpected visitor bring new things into WALL•E's life - love, friendship and adventure. He learns that there is more to life than work."
EVE
"Don't be fooled by this sleek probe-bot's baby blues, she means business! EVE is smart, tough and extremely determined. She comes to Earth in search of vegetation and not only completes her mission, but also finds something extra special - WALL•E. Being with WALL•E reveals a softer side to EVE. He takes care of her, makes her laugh and proves to her that he can be tough when he needs to be."
M-O
"M-O has one purpose in life - to make the world a cleaner place. He is dedicated to his job and hates to see even a single speck of dirt. Enter WALL•E. The stowaway from Earth is not only covered in space dust, he has spent hundreds of years sorting rubbish for a living! In WALL•E, M-O finally meets his nemesis. He is intrigued by the dirtiest robot he has ever seen and decides to follow WALL•E , rather than follow orders. Ultimately, WALL•E shows M-O that you can be clean and enjoy life."
GO-4
"GO-4 is not really a bad robot, he is just following orders. After all, he was built and programmed by the Buy-n-Large Corporation so he doesn't know any other way. And he is definitely not the type of guy to disobey an order. In fact, G0-4 takes his job extremely seriously. He is focused and precise, executing his orders with almost military precision and he just loves using his red flashing light."
Shelby Forthright
"As CEO of the Buy-n-Large Corporation. Shelby Forthright had a lot of influence on Earth in the early 22nd century. He took the radical decision to evacuate the rubbish-filled Earth and send humans to space. He called the plan ''Operation Recolonise'' and assured humans that they would be safe and sound orbiting the Earth in a fleet of luxury space ships like the Axiom, while BnL organised the clean-up mission."
Cockroach
"WALL•E has one loyal companion on Earth - a cockroach. Like his pal, the insect is a born survivor. Not only has he survived the loneliness of life on Earth, but he has also survived being regularly run over by WALL•E! The little cockroach might not be much of a talker, but he is great at making friends. When WALL•E is too shy, the cockroach introduces him to EVE."
The Captain
"Captain B. McCrea is the latest in a long line of Axiom captains. However, as the Axiom is in a permanent orbit maintained by Auto and the Computer, the Captain doesn't have a lot to do. His most important job is greeting the passengers every morning and telling them what day it is and what the weather is like - 72 degrees and sunny. Always. Things change when WALL•E arrives on board and the Captain is forced to take charge for once."
AUTO
"Auto is the Axiom's autopilot and lazy Captain McCrea is more than happy to leave most of the day to day running of the ship to him. Usually this arrangement works out just fine, that is until EVE returns from Earth with evidence of sustainable life. Auto follows Shelby Forthright's secret directive A113 and tries to destroy the plant, but EVE, WALL•E and finally the Captain are not about to let that happen if they can help it."
Humans
"After years of living in micro gravity, eating liquefied food and not working, humans have become quite lazy, resulting in a serious loss of bone density. Instead of walking, humans float about on hover chairs and talk to each other via holoscreens, rarely having any face-to-face interaction. Thankfully, the arrival of WALL•E gives humans the wake-up call they have been waiting seven hundred years for."
John
"John mistakes WALL-E for a drink-bot and falls out of his chair. At first he panics and waits for a service-bot to help, but then WALL•E introduces himself. Later John literally bumps into Mary and the two humans make an instant connection. When Auto tries to take control of the Axiom, a re-energized John and Mary join forces to save the humans on board."
Mary
"Mary is having a virtual gossip with a gal pal when WALL•E interrupts her. He causes Mary to sit up and take notice for the first time. She didn't even know that the Axiom had a pool and had never looked at the stars properly before. When she meets John, Mary feels alive and the two humans start having fun for the first time in their lives."
Bored Buddies
"These two Axiom passengers are side by side but are communicating via holoscreens. They are trying to decide what ''activity'' to do."
Babies
"Babies wear identical outfits as do the adult humans on the Axiom. They are cared for by highly skilled nanny-bots."
Lunchers
"When WALL•E hitches a ride on EVE's transporter, the other passengers barely notice him. They are too busy eating lunch from a cup."
Over Inflated Guy
"In emergency situations the passengers' air bags inflate, no matter what they are doing at that time!"
Thirsty Human
"While the Captain makes his morning address, all activities are halted. A thirsty passenger reaching for her drink finds herself empty-handed."
Lido Deck Loungers
"The Lido Deck is a popular area on the Axiom. Passengers chill out by the pool while enjoying the perfect artificial weather."
Sliding Man
"When Auto battles for control of the ship, the Axiom tilts wildly, causing all the passengers to fall out of their hover chairs."
Walking Man
"Without their hover chairs, the humans flail around like beached whales, but then, slowly and surely, they begin to stand up and walk."
Robots Galore!
"With 500,000 robots on the Axiom and 5,000 passengers it gives a robot to human ratio of 500-1. There is literally a robot for everything humans could possibly think of, from health and safety to leisure and beauty, repair and maintenance to peace-keeping and security. Thanks to the thousands of robots, humans don't have to do anything for themselves."
Steward-Bots
"A team of steward-bots keep order on board the Axiom. They report to GO-4 and patrol the decks of the ship looking for signs of trouble - ready to use their freeze beams whenever necessary."
D-FIB
"Who needs doctors when there are highly trained medical bots who can save lives instead? This D-FIB bot can restart a person's heart using powerful electric shocks."
Golf-Bot
"A round of golf would require human interaction and a nice wide open space, so on the Axiom humans play virtual golf instead using robots, decked out in traditional plaid. Caddy robots are also available to carry the golf-bots' clubs for them."
HAN-S
"Massage bots make life on the Axiom even more relaxing for humans! The Captain likes to start the day with an invigorating facial massage and when he gets really stressed out he likes a comforting back rub."
VN•GO
"The Axiom has been kept looking good for seven hundred years thanks to paint jobs every ten years. It takes so long to paint the ship that by the time the VN•GO paint-bots have finished, it's time to start again."
WALL•A
"WALL•A robots or Waste Allocation Load Lifter: Axiom class have a similar function to WALL•E, but they are much larger. They sort, cube and eject all the Axiom's rubbish."
TYPE-E
"This multi-tasking typing robot is stationed at the entrance to the lift leading to the Axiom's control centre - the bridge. It opens the doors for EVE's transporter and then is very surprised when WALL•E waves goodbye. The curious robot imitates the gesture."
VAQ-M
"There's not a lot of dust in space, but the Axiom is kept spick and span by a fleet of cleaning bots such as this vacuum-bot. Who would believe that seven-hundred years ago, humans did their own cleaning? What a crazy notion..."
Reject Bots
"Sometimes even the most state-of-the-art robots get sick. They might have a serious malfunction, a minor glitch or just be totally worn out from running around after humans all day long. But don't worry, sick robots are well cared for on the Axiom. They are taken to the Repair Ward, fitted with special red devices and looked after until they are feeling better. That is, until WALL•E arrives and blows the Repair Ward wide open. Literally!"
PR-T (REJECT)
"This malfunctioning beautician bot just loves giving makeovers to anyone who crosses its path. Unfortunately not everyone looks good in blue eyeshadow, false eyelashes, tons of blusher and bright red lipstick. Just ask WALL•E!"
HAN-S (REJECT)
"This massage bot is full of pent-up energy, which make its massages pretty dangerous. It is usually kept safe in a holographic strait jacket. But when WALL•E accidentally springs a Repair Ward breakout, this masseuse provides some useful muscle when trying to avoid the steward bots!"
VQ-M (REJECT)
"A dust allergy is probably the worst thing that could happen to a vacuum bot! This poorly robot sneezes out everything it sucks up. Hopefully, a nice holiday on the Repair Ward will provide a cure."
BRL-A (REJECT)
"This umbrella bot just keeps on getting jammed. Despite intensive physical therapy in the Repair Ward, it can't control its opening mechanism. However, it later becomes a useful deflector shield for the steward-bots' lasers and protects EVE, WALL•E and all the other reject bots."
L-T

(REJECT)

"This light-bot has some serious flickering issues. The diagnostic bots are still working out the cause. It is probably a simple loose connection, but it could also be a light cold, which is a very common affliction."
VN-GO (REJECT)
"This paint bot has an uncontrollable urge to paint anything and everything. It doesn't care which colour either, in fact its favourite look is multi-coloured splashes! It is very easy for the steward-bots to track this rogue robot."
D-FIB (REJECT)
"While most defibrilator-bots revive ill patients, this reject bot is a health hazard. It gives dangerous electric shocks and is a serious fire risk. The repair bots make sure that they always have a fire extinguisher handy when this bot is around."
Repair-Bot (REJECT)
"This rogue repair-bot is in need of some urgent repairing itself. It has some seriously faulty wiring - instead of fixing things, it prefers to break them!"
Tennis-Bot (REJECT)
"This tennis-bot doesn't need a partner, it is just happy to hit smash after smash all day. It's probably best to duck if you see this reject bot coming."
Golf-Bot (REJECT)
"''Fore!'' This golf-bot is a major liability because it can't stop wildly hitting golf balls in all directions. It is best approached with caution, wearing a hard hat or protective clothing."
PR-T
"Beautician-bots cleanse, trim or make up the humans, when they need pampering. The robots keep up a steady stream of flattering small talk to keep the passengers feeling good about themselves. The Captain has a personal beautrician bot to make sure that he is perfectly groomed."
Scanner-Bots
"Many of these robots work in the Repair Ward. Their multi-function arms scan patients and fit red ''repair'' devices on all new arrivals. They also keep difficult patients under control, until WALL•E disables the entire room with an accidental blast from EVE's left arm!"
L-T
"Axiom passengers need never be afraid of the dark thanks to these handy light-bots. They contain 120-watt dual setting halogen bulbs and are painted with special ''easy-to-locate hull pigmentation'' so that they never get lost."
NAN-E
"Featuring a multi-lingual voice chip, nanny-bots can look after the Axiom's youngest passengers in 47 different languages. These caring robots feature loving arms and instant pacifier capabilities, they also provide basic maths and literacy lessons."
REM-E
"Even an upscale spacecraft such as the Axiom has a minor rodent problem. Little rat-like robots known as REM-Es like to hang out amongst all the trash. When GO-4 shuts EVE down and sends her down the rubbish chute, one of the REM-E bots reboots her."
Tennis-Bot
"Humans on the Axiom don't have the energy or muscle strength to actually play tennis, so they have robots do it for them. The humans control the tennis-playing robots via a hand-held console."
Axiom Computer
"Located on the bridge, the Axiom's computer is a vital part of the ship. It controls the temperature on board, helps keep the ship in constant orbit and communicates with all the robots. It has a soothing female voice and is able to answer all the curious Captain's questions about Earth."
BURN-E
"Basic Utility Repair Nano Engineer, or BURN-E is a tiny repair bot. He moves around on a single track, performing vital functions such as fixing lights and welding together broken pieces outside of the Axiom. The quirky little guy is extremely focused on his work and hates failure!"
Diagnostic Bots
"In the Repair Ward, diagnostic-bots run full systems checks on all malfunctioning robots and then coordinate their rehabiliation programs. They also like to give their patients a thorough cleaning so that they feel good inside and out."
BRL-A
"Of course it never actually rains on the Axiom, but umbrella bots are still required on the lido deck. They can be summoned instantly to provide shade from the artificial sunshine."
Spray-Bot
"When probes like EVE return from their missions, spray bots decontaminate them and make sure that they do not spread any nasty germs on the Axiom."
BUF-R
"Buffer-bots have kept the Axiom looking shiny and new for seven hundred years. They also work with spray bots and M-O to clean and decontaminate probe-bots."
Landing Bots
"Landing bots work with tanker bots and check, clean and unload all returning probe space ships while the tankers re-fuel. They live in the Axiom's docking bay."
Make-Over Bots
"When this robot bumps into WALL•E and the rogue robots, it ends up with a brand new look thanks to the malfunctioning beautician bot. ''Oh, that style suits you!''"
Drink-Bot
"There are many types of drinks bots on the Axiom proving, from smoothie bots to cappuccino bots, juice bots to soda bots. There is even a formula bot to assist the nanny-bots."
Cleaning-Bot
"This cleaning bot looks a little like M-O but he doesn't share M-O's affection for WALL•E. When WALL•E accidentally bumps into this bot, it gives him some major attitude.
TANK-R
"Who needs a gas station when there are tanker bots? Tanker bots carry fuel to all the Axiom's probe ships. They always refuel a ship as soon as it returns from a mission."
Repair-Bot
"Thousands of these small robots take care of all the day-to-day maintenance and repairs on the Axiom. But who repairs the repair bots?"
AMP-BOT
"This robot roves around the Axiom looking for power-related emergencies. It is always on call to deal with any battery failures or power outage."
SUPPLY-R
"This supply-bot is BURN-E's co-worker. He makes sure that BURN-E has all the equipment he needs, which can be quite a big job!"
Food Dispenser-Bot
"Humans can have a variety of tasty meals and snacks brought directly to their hover chairs at any time of day or night, thanks to these handy food dispenser-bots."
Chef-Bot
"Quick and efficient chef-bots prepare all the meals on the Axiom. Their hardworking cupcake-in-a-cup-making/pancake-flipping/deep frying arms must be replaced after every 10,000 meals in a cup."
Coffee-Bot
"The Captain wouldn't be able to get through his busy days without his morning dose of caffeine, supplied of course by his personal coffee-bot."
Claw-Bot
"Designed for heavy lifting and loading, the claw-bots perform a lot of important tasks on the Axiom. They also make really effective back scratchers!"
How many welding bots does it take to change a light? Just one, but he needs a lot of determination! Meet BURN-E, a welding-bot on a very important mission. When he is sent by Auto to repair a broken light on the exterior of the Axiom, it seems like a simple task, until WALL•E comes along. WALL•E is on a lifesaving mission of his own, and BURN-E soon finds himself locked out of the Axiom. Thanks to his trusty welding tool, he manages to get back in and reactivates the light, only for it to be destroyed by an escape pod lid. Thanks, WALL•E!
We all know that storks deliver babies, but do you know where they get them? Cloud people sculpt babies from clouds and bring them to life ready for storks to deliver. Gus, a small and insecure gray cloud, is a master at molding ''dangerous'' babies, like crocodiles, porcupines and rams. As his creations become more and more ambitious, his loyal deliver stork, Peck, has to work harder and harder. Will Peck manage to handle both his hazardous cargo and his fluffy friend's fiery temperament?
| NAME | STORY |
| --- | --- |
| Carl Fredricksen | "Carl Fredricksen has got used to expecting the expected. His life is steady - some might say boring - but since he lost his wife, Ellie, his desire for adventure has gone. However, his life is about to change when a construction company tries to force Carl out of his house. He thinks now might be the time to fulfill his promise to Ellie to go to Paradise Falls. Carl's about to go on his biggest adventure and make some new friends." |
| Russell | "Meet Junior Wilderness Explorer Russell from Tribe 54, Sweat Lodge 12. But Russell is not satisfied with that. He wants to be a Senior Wilderness Explorer and all he needs is his Assisting the Elderly badge - and an elderly person to assist! Russell's going to get a lot more adventure than he bargained for assisting Mr. Fredricksen.'' |
| Dug | ''Loyal, loving and full of energy, Dug is hard not to love - and it's even tougher for him not to love everyone! You might think Dug is a typical dog, but there is something quite unusual about this furry fellow - he talks! His master, Charles F. Muntz, created special collars for his dog pack. These technologically advanced collars translate the dogs' thoughts into speech. It's a shame that most of what Dug says revolves around wanting to be liked, and squirrels. Muntz may be Dug's master but Dug is beginning to think that Carl Fredricksen might be a kinder one.'' |
| Alpha | "This vicious doberman is the leader of Muntz's pack of dogs. He performs his duties to a high standard and takes a great pride in his work. He is an excellent tracker - those pointy ears certainly come in handy - and always has his paw on the pulse, using Muntz's high-tech collars to track the pack. Barking orders comes easily to Alpha but sometimes he confuses his pack with complicated speech, such as ''...you two shall have much rewardings from Master for the toil factor you wage.'' That's what comes of giving dogs talking collars!" |
| Beta | "Beefy Beta is a rottweiler, and Alpha's trusted lieutenant. Beta is considered to be an excellent tracker and also quite clever. Alpha has even gone as far as calling Beta ''wise''. Despite Beta's skills, he is easily distracted: When he gets worried that Muntz will punish them, his concern is that they will not get any treats! Unlike Alpha, Beta can be succinct: his assessment of Russell in his Wilderness Explorer uniform is that he looks like a ''small mailman''. Russelll had better watch out - dogs and mailmen do not go together!" |
| Gamma | "Bulldog Gamma is Alpha's hench-dog. This chuncky canine is not only useful on the ground; he is also able to operate a fighter plane, using the bone-shaped joystick and the code name Grey 2. Puppy pilots bringing up the rear better get their wipers on to protect their planes from this slavering hound! Like Beta, Gamma is a terrific tracker. However, when he gets on the trail of the mysterious giant bird, he is confused to find not only the scent of a bird but also the smell of prunes and denture cream." |
| Charles F. Muntz | "In the 1930s, Charles F. Muntz was an explorer extraordinaire. With the good looks of Clark Gable and the wealth of Howard Hughes, Muntz was the poster boy of his generation. In his dirigible, named the Spirit of Adventure, he travelled to distant lands to discover rare plants and animals. However, the discovery of a giant bird skeleton was his underdoing, and his fame did not last." |
| Kevin | "This striking 13-foot-tall, brightly coloured bird crosses the path of Muntz, Carl and Russell. Russell loves this feathered fellow and names the bird ''Kevin''. Imagine his shock when he hears Kevin calling to ''his'' babies - Kevin is really a she! Kevin is a devoted mum and spends her days finding food for her babies, who she keeps in a labyrinth, away from prying eyes. Being a mum hasn't meant Kevin has lost her sense of fun - on top of Carl's roof she can't help herself eating one of his tasty balloons. However, she also knows when it's time to be serious, helping Russell and Carl flee Muntz's lair." |
| Ellie | "Young Ellie was so excited when she met Carl. Right away tomboyish Ellie could see he was someone she could share her love of adventure with. Showing Carl her Adventure Book filled with all her plans, Ellie made him promise they would go to Paradise Falls. However, after they married, real life got in the way. Still, ever-positive Ellie found more important things to put in her book, like photos of Carl and their life together." |
| Tom | "Poor Tom. This friendly construction worker loses his hat when Carl blasts it with a leaf blower. Then Carl uses Tom's megaphone to shout at Tom's boss, and the worker has to plead, ''I am not with him!''" |
| Steve | "On the building site, Steve has some sense knocked into him. When the construction worker accidentally guides a truck into Carl's mailbox, Carl hits him with his walking cane." |
| Construction Boss | "This suit is used to negotiatons but when he offers to take Carl's ''old place'' off his hands, Carl tells him to ''take a bath''. Prune juice in the boss's petrol tank also sends a clear message." |
| Boss's Henchmen | "When the construction boss arrives on site, his two sidekicks are never far away. Armed with briefcases, hard hats and mobile phones, this shade-wearing pair mean business." |
| Construction Workers | "It's lucky that these construction workers are wearing ear muffs. Not only do the muffs drown out the digging noises, they also muffle the sounds of Carl shouting." |
| George | "George is a nurse for Shady Oaks Retirement Village. When he and A.J. arrive to pick up Carl, George is suprised to see helium tanks on the lawn: This old guy is a bit messy!" |
| A.J. | "Shady Oaks Retirement Village nurse A.J. understands elderly people. So when Carl says he wants to say goodbye to his house, A.J. figures he's going to the bathroom again." |
| Muntz's Dog Pack | "Muntz has always had a very unusual pack of dogs, including hounds that can fly planes and pooches who serve food.'' |
| Omega | "Omega is one of Muntz's pilots and flies under the code name Grey 3. Russell tricks him into crashing by shouting ''Squirrell!'' so that the dogs are all forced to parachute. |
| Kevin's Babies | "These soft little feathered fellows wait in the labyrinth for their mum, Kevin, to bring them food. Even though one of the birds pecks Carl, neither he nor Russell want the birds to leave." |
| Police Officer Edith | "Cop Edith escorts Carl back to his house after his court appearance. Experienced Edith is familiar with the world of criminals and she's pretty sure that Carl isn't one of them." |
| Campmaster | "He may look like he's about to break into song but this Wilderness Explorer campmaster is actually about to present the young explorers with their Senior Wilderness Explorer badges. Caw-car, rarr!" |
| Jimmy | "Junior Wilderness Explorer Jimmy waits to get his Extreme Mountaineering Lore badge. Jimmy knows all about Lore but he wouldn't know where to start if faced with climbing a real mountain." |
| Brandon | "Brandon is really proud of himself for getting his Wild Animal Defensive Arts badge. Now he knows exactly what to do if he sees a tiger or grizzly bear - RUN!" |
| Shannon | "Shannon receives her Knot Tying badge after Russell gets his Assisting the Elderly badge. She's sure the badge will come in useful: She can make sure her shoelaces never come undone." |
| Society Member | "When Muntz is deemed a fraud because of his bird skeleton, the National Explorer's Society strips him of his membership, removing the patch from his jacket and his photo from the wall." |
| Journalists | "As Muntz returns from Paradise Falls, a scoop of journalists wait. Muntz has a way with words, and phrases, like ''Adventure is out there'' make great headlines." |
| Ambulance Driver | "Sometimes adventure is dangerous. Carl falls and breaks his arm reaching for a balloon in Ellie's clubhouse. Luckily the ambulance is not far away." |
| Carl's Family | "It's the happiest day of Carl's life when he marries Ellie but his conservative family can barely crack a smile between them." |
| Courtroom Passers-by | "Carl is not used to people dashing about all around him. His life moves at a much slower pace. These people have a lot to get done in a day, though." |
| Courtroom Members | "The judge may almost be as old as Carl but he is not on Carl's side. The stenographer records the courtroom's events while the public look on." |
| Window-shoppers | "This family were out shopping. They didn't expect to see a floating house in the window - well, the reflection of one, at least." |
| Dee | "Dee thinks her birthday has come early when she sees a gigantic bunch of balloons float past her window. But, wait a minute, what are they attached to?" |
| Window Washer | "Being a window washer can be a lonely job. So when Carl in his floating house waves at him, he thinks it's only fair to wave back. Chances like this don't come around often." |
| Hamster | "One day young Ellie wants to travel the world and discover strange and unusual animals. For the time being she has to make do with her hamster that lives in a cage on her desk." |
| Frog | "Alarm clocks are tough to find in the jungle, which makes getting up early difficult. However, a croaking frog is a good alternative as Carl finds out. Although this one doesn't have a snooze button." |
| Scientists | "When the group of scientists see Muntz's giant bird skeleton, they cry foul. They're convinced that the skeleton is a fake and Muntz is stripped of his National Explorer's Society membership." |
| Wedding Photographer | "A photographer is at Ellie and Carl's wedding to capture the special day. Ellie puts the photo in her Adventure Book - after all, her and Carl are about to embark on their biggest adventure." |
| Ellie's Family | "Unlike Carl's family, Ellie's family are widely enthusiastic about the happy couple's special day. They're so happy that they leap out of their pews and fire guns in the air!" |
| Doctor | "When Ellie and Carl find out that they're going to be parents, they are over the moon. Unfortunately, a doctor has to break the sad news that they have lost the baby." |
| Shopping Channel Presenter | "Sitting in his armchair, Carl channel surfs and often ends up on the shopping channel. Who can't be happy looking at the presenter's huge grin? Carl, that's who!" |
| Courtroom Guard | "The courtroom guard opens the door for Carl and he nervously walks in. The guard has seen it all before, though most of the people called in front of the court are a little younger than Carl." |
Themes
You've Got a Friend in Me (heroic duos)
Love is... (couples)
10 of the Worst (villains)
Best Supporting Act (supporting and helpful characters)