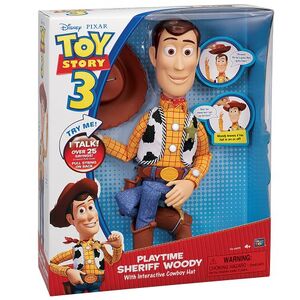 The Playtime Series figures are the cheaper versions of the Toy Story Collection figures. They have less details and less phrases (this includes the interactive mode). There are some advantages to the Playtime figures. For instance, Woody has his "posse" phrase, while the Collection version does not. The UK version of the Playtime Buzz Lightyear has Spanish phrases and is abit similar to the 1995 version. Jessie has plastic hair instead of the yarn hair. Woody's hat doesn't have the stitching on his hat, or the gold paint on his buckle, or on his spurs. Buzz Lightyear doesn't have complete finger posing, no light-up wing tips, and he has a different laser sound from his collection counterpart.
Releases
Community content is available under
CC-BY-SA
unless otherwise noted.