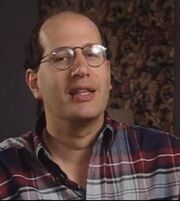 Ralph Guggenheim worked for Pixar since even before it was called Pixar. He was hired by Ed Catmull to work at the Computer Graphics Lab at the New York Institute of Technology (NYIT). At NYIT, he was part of a four-person group working on television commercials[1]. It was Guggenheim who received a call from Lucasfilm when George Lucas was looking to start a new computer research lab to work on upgrading his film-making tools, such as film editing and preparing sound tracks. This led to a large group of folks leaving NYIT and moving to Lucasfilm.
Guggenheim moved to Lucasfilm in 1980 and was tasked to work on the new film editing system. The new system, named Editdroid, was introuduced at NAB in 1984, ushering in a new generation of editing tools for video and filmmakers.
After the research lab was sold to Steve Jobs and renamed Pixar, Guggenheim went from managing the animation group in the late 1980s to being Vice President of Feature Animation[2]. He also produced Toy Story, and was the producer for a short while on Toy Story 2. He left the company after 17 years in June 1997. Since then he has worked for Electronic Arts and started his own animation studio, Alligator Planet[1].
Filmography
Gallery
References
↑ 1.0 1.1 Price, David A. (2008). The Pixar Touch, pp. 30, 104, 178. New York, Alfred A. Knopf
Community content is available under
CC-BY-SA
unless otherwise noted.