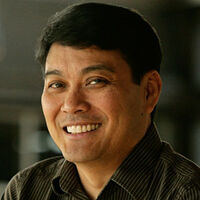 Ronnie del Carmen is a story artist and supervisor, character designer, and independent illustrator.
Biography
Ronnie del Carmen was born in the Philippines on December 31, 1959. He loved drawing at an early age. He also loved movies and hoped to work in the movies or draw for a living. When he graduated high school, he was hired to work on a Vietnam movie, this film happened to be Francis Ford Coppola's Apocalypse Now!.
Ronnie graduated from the University of Santo Tomas with a degree in Fine Arts. When he was 29 years old, Ronnie left the Philippines to pursue his dream of working in films. He worked in various positions (story artist, story supervisor, character designer, illustrator) on several feature films at DreamWorks and Warner Bros. including Freakazoid!, Batman: The Animated Series, Prince of Egypt, Road to El Dorado and Sinbad: Legend of the Seven Seas. He was awarded an ANNIE for Storyboarding in an Animated Feature Production for his work on Spirit: Stallion of the Cimarron in 2002.
Ronnie joined Pixar in early 2000 and worked extensively as story supervisor on Andrew Stanton's Finding Nemo. After the huge success of Finding Nemo, del Carmen served as production designer on One Man Band before returning to storyboard artist on Ratatouille and WALL•E. For his work on the Oscar-winning WALL•E, del Carmen was nominated for another ANNIE for Storyboarding in an Animated Feature Production.
Ronnie took on story supervision duties on Pete Docter's Up and directed the accompanying short Dug's Special Mission, which will be included with the DVD and Blu-ray release.
Ronnie has also very active working in the book industry. He did Batman Adventures Holiday Special with Bruce Timm, Paul Dini and others, garnering an Eisner Award Best Single Issue in 1995; Batman Black and White Volume Two for DC in 2002; Dark Horse's Aliens: Mondo Pest series.
He also publishes his own stories in his Paper Biscuit books featuring Nina, a dream-walking adventurer and social misfit. Ronnie is also very active online with his own blog.
Personal Life
Ronnie is happily married to his wife and has two kids.
Filmography
Trivia
External links
Community content is available under
CC-BY-SA
unless otherwise noted.