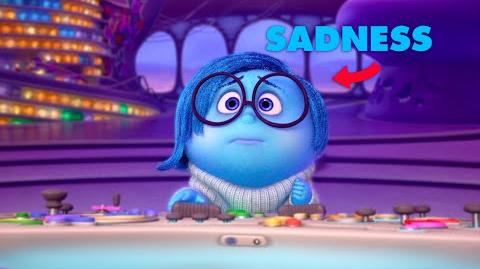 Sadness is the deuteragonist of Inside Out. She is one of the five emotions inside the mind of Riley. According to an interview with Phyllis Smith, Sadness is the voice of reason: when Joy has an idea, she'll try and drag her down. She appears to be depressive most of the time, but there are a few instances when she is seen smiling.
Official Bio
"None of the other Emotions really understand what Sadness's role is. Sadness would love to be more optimistic and helpful in keeping Riley happy, but she finds it so hard to be positive. Sometimes it seems like the best thing to do is just lie on the floor and have a good cry."[1]
Personality
Sadness and Joy are polar opposites. While Joy is outgoing and ferociously optimistic, Sadness is slow and more prone to lie on the ground. Though joyful events can get her to smile (such as when Riley scores her first goal), she is pessimistic and consistently sees the negative side of things.
Like the other emotions, she trusts Joy to know what's right for Riley. She finds herself unhelpful in comparison and is desperate that she can't get herself to see things from the same angle as Joy. She is insecure, and lives with the idea that her actions are bad and that she may be harmful for Riley.
But the fact is, Sadness is intelligent, and in her slowness she more thoughtful. She has deep empathy and compassion for others and their troubles, and can bring people in need together. She has a good instinct of what Riley needs when her life begins to change. However, she lacks the confidence to claim she has the right idea, and instead, she tries to repress her actions, which only leads her into expressing them in an uncontrolled manner. Over the course of the film, Joy comes to recognize the value of Sadness. The latter in turn comes to gain some self-esteem and to finally take her place at the console.
Appearance
Sadness has blue skin, hair and eyes. She wears has a white sweater, big round glasses, and blue pants and slippers.
Trivia
She appeared 33 seconds after Joy did, when Riley cried for the first time.
Sadness could resemble a nerd, with her thinking she doesn't fit in, and with her big round glasses and sweater.
Even though Sadness is mostly seen as mournful, there are several occasions when she is seen smiling, proving that emotions can express more feelings than their own representation.
Gallery
Stills and Character Poses
Concept Art
Videos
References