Sally Carrera is a main character in Cars, and a supporting character in Cars 2 and Cars 3. She is a blue 2002 Porsche 911 Carrera. She is the owner of the Cozy Cone Motel and is the attorney for Radiator Springs. Her love interest is Lightning McQueen, whom she usually calls "Stickers" (due to the fact that he does not have headlights; only stickers that look like headlights).
In her past, She wasn't enjoying life in the fast lane as a Californian lawyer, so when she arrived in Radiator Springs she slowed things down. In love with the scenery of Ornament Valley, and caring deeply about the new friends she has made, Sally knows how to enjoy life. Her favorite way to relax is taking a leisurely drive along the mother road.
Official Description(s)
"Sally grew tired of her life in the fast lane as a high-powered attorney in Los Angeles and made a new start in the small town of Radiator Springs. Charming, intelligent, and witty, she became the town attorney and the car most dedicated to preserving the town's historical beauty. She bought the Cozy Cone Motel and restored it back to its original condition and has no plans of stopping there. She'd fix the whole town building by building if that's what it took."[2]
"Sally's tattoo pin-striping is left over from her early days. Though she's a little embarrassed by it now, it serves as a reminder of her high-speed life in California and how happy she is to be cruising in the slow lane."[2]
Appearance
Sally is a light blue 2002 Porsche 911 Carrera, with aqua eyes, and high wheels. She is the proprietor of Radiator Springs' Cozy Cone and Wheel Wagon Motels and the apple of Lightning McQueen's eye.
Cars
Sally is the town attorney of Radiator Springs. She is first seen in the Courthouse, arriving late. Lightning, however, flabbergasted by her looks, assumes she is from his attorney's office, and tells her she doesn't have to do anything, for Doc Hudson wants him kicked out of town, as well as asking her to go on a date with him. McQueen proceeds to be obnoxious and says the people around are crazy, ending with a Ka-Chow in Sally's face. Sally tells McQueen she's going to talk to the judge, and leaves after greeting Mater, telling McQueen, she is, not, from his attorney's office. This is later confirmed by Mater, who shocks McQueen by saying she's his fiancé, which is false as Mater was kidding.
She asks Doc to force McQueen to fix the road, but the old racer sees too much of his past self in McQueen, and refuses. This forces Sally to ask the citizens what would happen if there was no road, most notable being Flo leaving, shutting down her gas station, screwing over the cars, resulting in Doc changing his mind. Now infuriated, Lightning tells Sally he is "SO not taking her to dinner", to which Sally taunts with "That's ok, stickers, (the first time she calls McQueen this) you can take, Bessie".
Soon after Lightning runs out of gas due to it being siphoned by Sheriff at night, Sally takes the chance to mock him, doing his signature Ka-Chow in his face, like he did to her in the Courthouse. Whilst McQueen is paving the road, two supposed customers show up. Sally greets them, and her, along with the rest of the town try to get to buy items, all in failure. McQueen then rushes the road and it is terrible. Sally calls him out on this, only for McQueen to completely roast the town, saying the road matches it. This makes Sally mad, especially after Red ran off crying, and asks McQueen who he thinks he is, to which the latter says Doc said when he finished, he could leave. Doc, upset, challenges McQueen to a race. McQueen accepts, but Sally is now upset, sure Doc will lose and the road will never get fixed. She is proven wrong when McQueen falls into the cactus. Night falls, and McQueen is now complaining to no end about the road work, making Sally start to reconsider her idea on keeping McQueen around.
The next day, she, and the rest of Town have a party on McQueen's freshly-paved part of the road. After seeing Luigi and Guido help McQueen by fixing a slow leak in one of his tires, Sally decides to offer McQueen a spot at her newly refurbished Cozy Cone Motel, not without cleaning the cacti off of him though. After turning around and heading back to the Cones, McQueen notices her pinstripe tattoo, leaving her embarrassed.
That night, after McQueen returns from Tractor Tipping with Mater, Sally believes customers are coming and unsuccessfully tries to turn on the motel lights, but sees that its only McQueen and Mater and overhears their conversation, and takes notice of McQueen's designs on her. She also overheard McQueen telling Mater he would get him a Helicopter ride with his "new" sponsor. Sally asks him if he actually meant it, and when McQueen shrugs it off, she tells him Mater trusts him. McQueen tries to shrug this off too, but after Sally takes notice, he regrets that and thanks her for letting him staying in the cone, taking her aback.
The following day, after filling him up with gas, Sally takes McQueen on a drive through Tailfin Pass up until they reach Wheel Well Motel. Here, Sally opens up more to McQueen; She was a rich, successful lawyer, but despite this, she never felt, happy. She drove down Route 66 until breaking down in front of Wheel Well. Doc fixed her up, Flo took her in, well, they all did, and she never left. Lightning asks why, to which Sally tells him she fell in love. Now devastated, McQueen asks if it was a Corvette. Sally chuckles, and tells him she meant the view, and Route 66. Lightning, surprised that everyone's just going by, asks why, to which Sally tells the story of how Radiator Springs got bypassed to save 10 Minutes of driving. She tells McQueen she dreams of seeing the town in its Hayday (Being a Porsche from 2002, the Town was bypassed long before she arrived).
The next day, McQueen has seemingly left after finishing the road, now leaving Sally devastated. After it's revealed he intends on postponing his departure to help everyone in Town, he undergoes a make over to resemble a more, classic car, impressing Sally. Sally notes that he's helped everyone, then McQueen tells her he has, but one, being her. It is then it is revealed Lightning helped everyone fix their neon to restore the town to its former glory. Sally cannot express how happy she is, but the time with Lightning with the town in a now, "even better" state than before is cut short by the RSN coming to take Lightning to California. Sally thanks McQueen for everything he did for the town and her, and departs. McQueen tries to catch up, but is bombarded with reporters and is unable to do so. He is carted off in his trailer. It is revealed Doc, whom feared McQueen would expose his secret and could no longer bear to keep him around called the RSN to take him away. A shocked Sally (who thought Mcqueen had called them) asks Doc why, to which he says was best for everyone. A now upset Sally asks if he was only thinking of himself, and drives back to the Cozy Cone to sadly watch Mcqueen leave before turning in.
Doc redeems himself by aiding McQueen in the tiebreaker race after revealing his true identity to the town. Nearly everyone goes, but Sally, Red, and Lizzie watch it on TV. When McQueen helped the injured Strip Weathers across the line, Sally watches with immense pride over Lightning's decision to give up his chance to win to help a fellow racer, knowing he is a winner regardless of his placing.
At the end of the film, Sally becomes Lightning's girlfriend.
Cars 2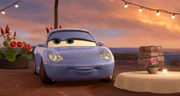 Sally returns in Cars 2 for Lightning's return from his latest Piston Cup race season. After Lightning spends most of his day with his best friend, Mater, he spends his evening with Sally at Wheel Well.
When Lightning commits to racing in the World Grand Prix the same night of his return, Sally remains steadfastly supportive of her star race car. She even convinces Lightning to take his best friend Mater along for the ride of a lifetime. Though Sally stays behind in Radiator Springs, even she lights up for the open-wheeled racing cars from Europe – but only Lightning truly makes her motor purr.
In the film, Sally greets Lightning when he arrives. The two then go on a date later that evening. When Mater comes, she and Lightning jokingly tell Mater that they will have their usual. She also remarks about liking Francesco Bernoulli's open wheels. When Lightning decides to go to the World Grand Prix she suggests that Lightning bring Mater along with him, and he reluctantly agrees. Later in Tokyo she is mentioned as Francesco and Lightning make a toast to her. She is seen at the London race and also tells Mater about Lightning calling her and the rest of Radiator Springs. Sally later fights the lemons with Red's help. At the end during the Radiator Springs race, she talks with Lightning before he introduces her to Francesco Bernoulli. She and Flo later comment about Francesco's open tires again.
Cars 3
Sally returns in Cars 3. She attends all of Lightning's races along with Mater in the pits to encourage him. She is present when McQueen crashes and rushes to him. Four months later, McQueen is still depressed and ruminating on the aftermath of his crash. Sally visits him and uses her persuasion skills to give him the motivation to try to make a comeback, pointing out that McQueen, unlike Doc Hudson, still has a chance to race again. Sally stays behind at Radiator Springs as McQueen embarks on a journey to prepare for his showdown with Jackson Storm. She is present at the Florida 500 once again to cheer for Lightning. When McQueen decides to let Cruz race in his place and steps up as her crew chief, Sally exchanges a smile with Mater, as both see Lightning transformed by the experience.
Personality
Sally is nice, friendly, pleasant, and kind to others. She is charming, intelligent, and witty. She shares one thing with her boyfriend: they both love to feel the wind in their hoods. Sally used to be a famous attorney, but then she was tired of fame and fortune and decided to settle down in Radiator Springs for a nice, quiet life.
Specifications [3]
Top Speed: 177 mph (284 km/h)
Zero – 60 mph: 4.9 seconds
Engine Type: Rear-engine 3596 cc flat-6
Horsepower: 320 at 6800 rpm
Trivia
Sally is based on a 2002 Porsche 911 Carrera, also known as the "996" Generation of 911's.[3]

Although a facelifted version was out by the time the movie came out, she is based upon a pre-facelifted one, likely due to the movie having been well into production by that time.

Sally's surname, "Carrera", is a reference to the Porsche 911 Carrera. The name was suggested by Porsche employee, Howard Buck.[4]
Originally, Sally was going to be a Mustang. However, they made her a Porsche since the grille looked more ladylike.[5]

She was then intended to be an older Porsche 911, possibly the 1963 one. The decision to change her to a more modern 911 was from Bob Carlson at Porsche.

Sally's license plate reads "301PCE".
Sally has Lightyear tires.
Quotes
From Cars
Sally: "Do you want to stay at the Cozy Cone or what?"
Lightning: "Huh?"
Sally: "I mean, if you do, you gotta be clean, because even here, in Hillbilly Hell, we have standards."
—Sally asking Lightning if he wanted to stay at the Cozy Cone.
From Cars 2
Lightning McQueen: "I know, I know. I just got back, but we won't be long and. . ."
Sally Carrera: "Oh. No, don't worry about me. I mean, I've got enough to do here. Mater's gonna have a blast, though."
Lightning McQueen: (pauses for a moment)
Sally Carrera: "You're bringing Mater, right? You never bring him to any of your races."
Lightning McQueen: (watches Mater drink a drink. He doesn't like it, so he puts the drink back in the glass)
Sally Carrera: "Just let him sit in the pits, give him a headset. Come on, it will be a thrill of a lifetime for him."
Mater: "Your drink, sir."
Lightning McQueen: "Mater."
Mater: "I didn't taste it!"
Lightning McQueen: "How'd you like to come and see the world with me?"
Mater: (gasp) "You mean it?"
Lightning McQueen: "Yeah, you got me into this thing. You're coming along!"
Mater: "All right!"
—Sally convinces Lightning to take Mater on the World Grand Prix.
Gallery
Die-casts
References