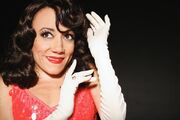 Selene Luna (born on September 19, 1971) is an actress, comedian and burlesque performer. She does the voice of Miguel's late aunt, Tia Rosita from the 2017 Disney/Pixar's animated movie, Coco. Luna's career has spanned two decades and she is most often associated with comedian Margaret Cho, with whom she has worked on stage, and in film and TV.
Luna is a little person, standing at 3'10", and much of her stand-up comedy revolves around this topic. She has said that when an adult is caught staring at her because of her stature, one of her favorite things to do is run up to them and say "No one else can see me but you! I was sent here to deliver a message!"
Luna is a lifelong ally of the LGBTQIA+ community, and is a longtime friend of drag performer Jackie Beat, with whom she has appeared in several films and many web shorts. She released a song and accompanying music video "I'm Callin' it Out".